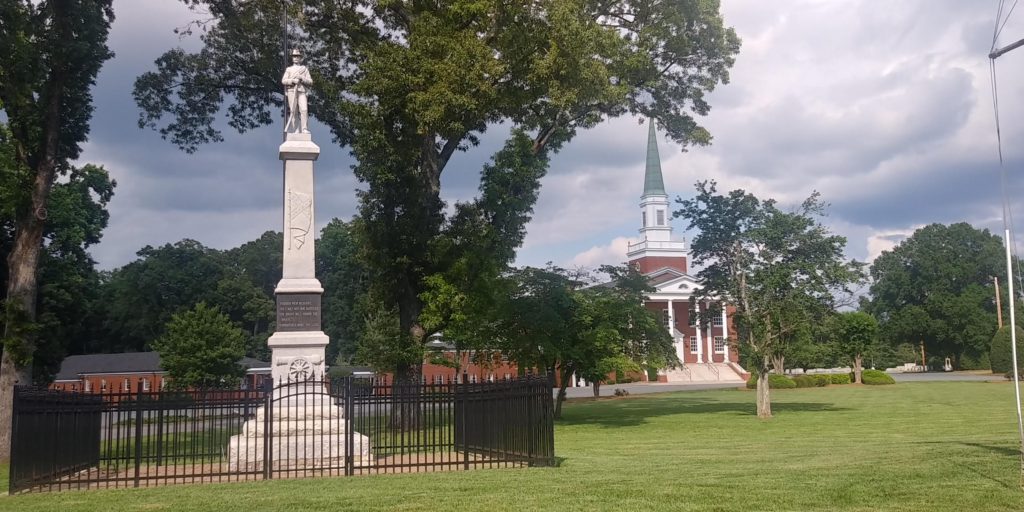 July 3. By Dave Yochum. The overall governing body of Mt. Zion United Methodist Church is calling on the people who control the Confederate Monument in front of the historic church to remove it immediately.
A statement issued last night by the Administrative Board of Mt. Zion backs up a call from the co-senior pastors of the church, the Rev. Dr. Angela Marlow and the Rev. Jonathan Marlowe, "to consider the harm their monument causes to our Black brothers and sisters​" ​and to remove the statue.
The Mt. Zion Monumental Association, which dates back more than 110 years to when the Confederate soldier and granite monument were erected, did not.
​​It sits on a small patch of lawn—fenced in now to prevent more vandalism—controlled by the association.
Donald Archer, the monument association's chairman, ​has not responded to recent requests for comment from Cornelius Today. But in a statement after the Marlowes' call to remove the statue, he said the "association is "exploring all options available to protect and save the monument​."
Church working for 'racial justice'
​Last night's statement from the church's administrative board also called "on the members of our church and community to pray for the removal of the monument and for racial healing in our community and beyond. We encourage all of us to work for racial justice.​"
It's the first time the church itself has called for the removal of the statue which was erected with much fanfare in 1910.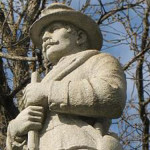 ​Confederate monuments were widely vandalized after the 2015 massacre of Black church members by a white supremacist in Charleston, S.C., and the 2017 "Unite the Right" rally in Charlottesville, Va., that left one person dead and 19 injured.
Monuments coming down
​The monument here in Cornelius was vandalized each time and remains under 24-hour video surveillance.​ Subsequently the Unity in Community organization was formed to promote healing and equality in North Mecklenburg.
They, too, have called for the monument's removal.
​Protests over the May 25 police killing of George Floyd ​in Minneapolis ​reignited calls to take the​ monuments​ down.
​The Confederate Monument in front of Mt. Zion is one of the last remaining in Mecklenburg County, and, for many people, a thumb in the eye.
The statement from the Mt. Zion administrative board says the church is a "very warm, welcoming, and hospitable congregation… But we acknowledge that the confederate monument in front of our church is perceived by many people as offensive. For many people, the outward appearance that they see does not match the inward reality that we know. We seek to bring these two into alignment with each other."
Archer, a Statesville resident whose family owned a long-time propane business in Cornelius, did not respond to the administrative board as of Thursday night.