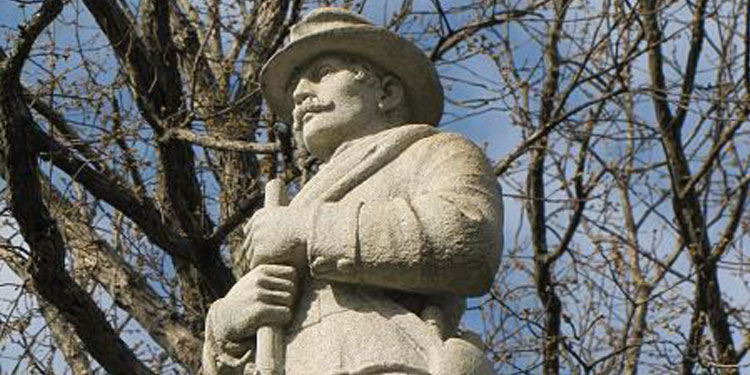 July 20. UPDATE: 5 pm. The 105-year-old Confederate Veterans Monument in front of Mt. Zion United Methodist Church has been vandalized. Cornelius Police covered the monument with a blue tarp around 7 am today.
The monument, which is not on church property, was vandalized almost exactly a month after the shootings at historic Emanuel African Methodist Episcopal Church in Charleston, S.C.
One of the phrases on the monument said: "Stop honoring white supremacy."
Officials at Mt. Zion could not be reached for comment. The church does not own or maintain the monument, which was erected in a different day and time.
If you have information, contact the Cornelius Police Department at 704-892-7773.
According to the Commemorative Landscapes of North Carolina web site, the monument stands in front of Mt. Zion United Methodist Church "where local men enlisted for the Confederate war effort and commemorates the local Confederate dead."
A Confederate Common Soldier statue stands on top of a tall tapered column.
The soldier stands at parade rest, facing north with his rifle resting on the ground.
According to the website, the "column is mounted on a dark, polished square granite block that is inscribed on the front face. This structure rests atop a capped granite plinth which has a bas-relief image of a cannon on the front face, bas-relief inscriptions on the sides, and the bas-relief image of crossed swords on the rear face. The entire monument structure sits on three-step base of rough cut stone."
The monument cost $10,000 in 1910.
---
RELATED: Statement from Rev. Dr. Mary John Dye, senior pastor at Mt. Zion United Methodist Church:
"The  monument to Confederate soldiers on Zion Ave.  has been a community landmark in Cornelius since 1910. It was built by contributions from across the community and it is on private property.
Our heart breaks at racial injustice or antagonism whether it is in our front yard or far away.  Because the long-standing characteristic of Mt. Zion United Methodist Church  and the United Methodist faith is a welcome for all, it was very sad to discover words of racial tension on neighboring property.
The next step to restore the damage to the monument is in the hands of community leaders.  On behalf of the church, it would be our hope and prayer that the whole community will join us in modeling relationships of mutual respect, concern and care for all."