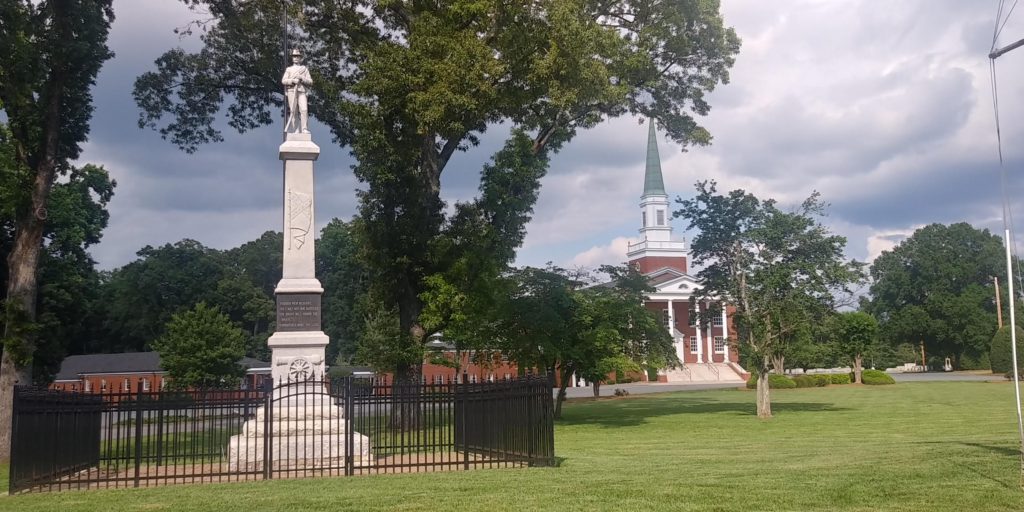 June 11. By Dave Yochum. As Confederate monuments re-emerge as a flash point after George Floyd's death, it appears leaders of Mt. Zion United Methodist Church in Cornelius will formally request that a 110-year old Confederate statue and pedestal be removed from the front lawn of the historic church.
The Rev. Jonathan Marlowe, co-senior pastor of the church, could not be reached for comment. Church leaders in the past have said they hoped to have the monument removed. Unofficial requests to remove the statue were unsuccessful.
Donald Archer, chairman of the monument association, did not comment.
Not church property
It is a complex situation. The small plot of land on which the statue stands is controlled by a private association. The statue is not on church property.
The request is merely a request, but it comes from the co-senior pastors, Marlowe and his wife Rev. Dr. Angela Marlowe.
Monument has been defaced
The monument has been defaced at least twice in the recent past and with recent unrest there have been growing concerns that someone could be hurt during an effort to take down the statue.
A crowd of protesters attacked a Confederate monument outside a courthouse in Portsmouth, Va., and part of it fell, apparently injuring one of the demonstrators.
A little history
The Confederate Monument in front of Mt. Zion was dedicated in 1910 during the annual reunion of members of Company K, 56th NC Regiment. The crowd was estimated from 6,000 to 8,000 people. There were judges and congressmen in attendance.
Protests and violence across the U.S., including peaceful demonstrations in Cornelius and Davidson, have brought a national reckoning to the treatment of African Americans over generations. Many Confederate monuments have been damaged or toppled.
The monuments commemorate a four-year war to defend an economic system that had its knee on slaves. UNC-Charlotte history professor David Goldfield said Confederate monuments are "a statement of what we value most at present."
No monuments to slaves
The Confederate Monument in Cornelius includes the Confederate battle flag and a Confederate soldier stands at parade rest, with his rifle resting on the ground.
There are no monuments to slaves in Cornelius.
The Lincoln Memorial, now a symbol of national reconciliation, was dedicated a dozen years later in Washington, D.C.
The Confederate monument in Cornelius cost $10,000 in 1910, the equivalent of roughly $250,000 today.