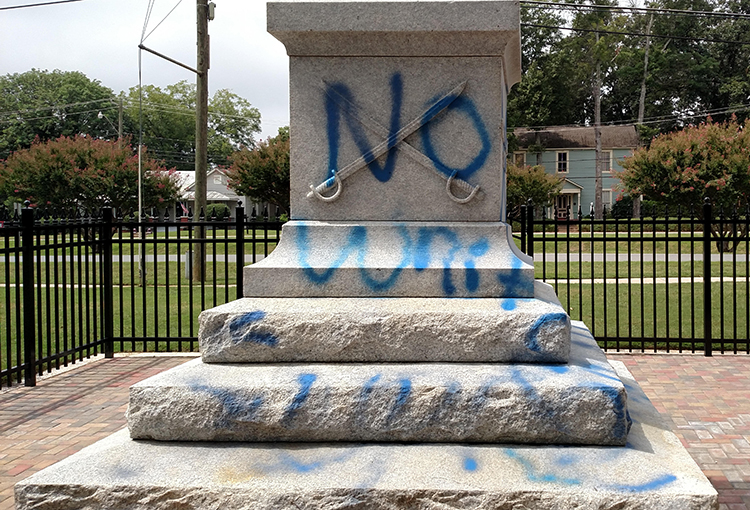 Sept. 19. By Dave Yochum. A 26-year-old Davidson man has confessed to defacing the Confederate Veterans Monument on Zion Street. The monument, erected in 1905 during the Jim Crow era, sits on Zion Avenue in Cornelius, almost directly across from Fire Station No. 1.
Cornelius Police say Maxwell Montague Sommer was arrested by Davidson Police after police here took out a warrant.
Sommer was charged with Misdemeanor Injury to Real Property. A court date is scheduled for Oct. 9. Sommer is a graduate of North Meck High School and studied history at both UNC-Charlotte and the University of Heidelberg in Germany. He was released on $1,000 bond.
He declined to comment to Cornelius Today.
The Monument on Zion Avenue was spray-painted sometime Aug. 12-13 with a bright blue "X" through the words "Confederate Soldiers" carved in stone more than a century ago. On another side of the monument, the word "NO" was painted over two swords.
The monument, which cost $10,000 in 1910, sits behind a recently erected metal fence. It sits on private property owned by the Mt. Zion Monument Association, not the nearby church. There is a sign on the fence that warns that video surveillance takes place 'round the clock.
The vandalism in Cornelius was reported one day after white nationalists clashed with police and counter-protesters in Charlottesville, Va., home of the University of Virginia.
One woman was killed after a latter-day Nazi sympathizer plowed his car into the crowds. Heather D. Heyer, 32, was described as "a passionate advocate for the disenfranchised."
The monument was cleaned almost immediately. Two years ago when it was defaced during the first wave of vandalism in the South, it took days to scrub the granite obelisk. Swastikas were painted on the monument as well as the phrase "Stop honoring white supremacy."
The monument here commemorates the local Confederate dead, not a general like Robert E. Lee. A Confederate Common Soldier statue stands on top of a tall tapered column at parade rest, facing north with his rifle resting on the ground.