June 15. Unity in Community, a local group seeking to achieve racial equity in North Mecklenburg, is asking the Mt. Zion Monument Association to take down the Confederate Monument in Cornelius.
The monument is located in front of Mt. Zion United Methodist Church, but not on church property. It was erected in 1910 with a huge dedication ceremony that included dignitaries from around the state.
There are around 120 Confederate monuments around the state; hundreds more in dozens of states. The Mt. Zion Monument Association, a private entity that does little more than own and maintain the monument, is not associated with the church.
This past week, the co-senior pastors of Mt. Zion also asked the association to remove the monument. The association responded with a statement saying association trustees would explore all options to "protect and save" the statue. It has been vandalized twice in the recent past.
Unity in Community dates back to 2017 when local clergy, including Rev. Joel Simpson, former assistant pastor at Mt. Zion, organized a prayer vigil in the wake of a white supremacist rally in Charlottesville, Va. The rally resulted in the death of one counter-protester.
The Cornelius Confederate monument was erected decades after the Civil War, during an era of repressive Jim Crow laws and terrorism, according to Pam Jones, president, and Sue Rankin-White, secretary/treasurer, of Unity in Community.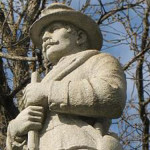 "To most African Americans, this monument represents white supremacy and the terror and injustice inflicted on black people throughout the history of this country. It still serves to intimidate and strike fear, as was its original intent," they said in a prepared statement.
Unity in Community, which received the LKN Chamber Diversity Champion award in 2018, is urging the Monument Association "to proceed in due haste to do the right thing and take down the monument, freeing the community once and for all from this oppressive symbol of White  Supremacy over our black brothers and sisters."
"Only then can racial healing and racial equity begin," their message said.