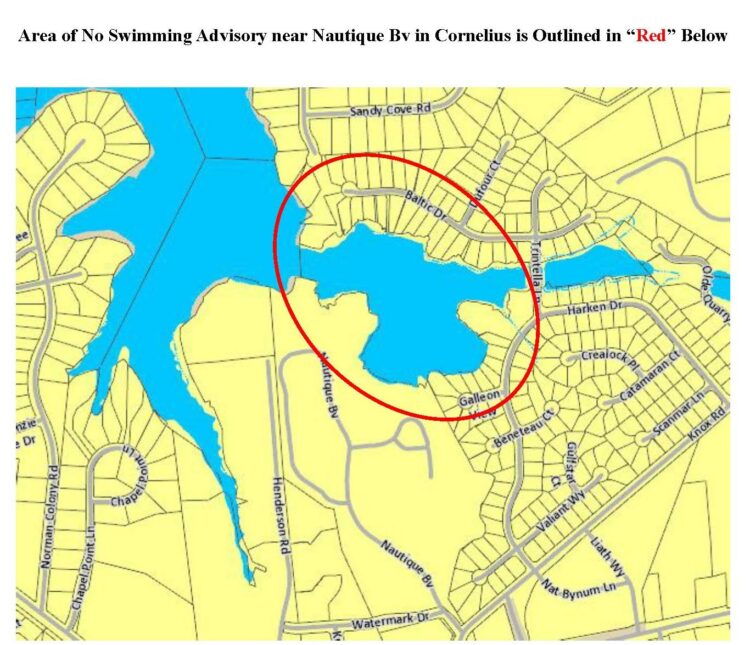 June 11. A "No Swim Advisory" has been issued for a cove near Nautique Boulevard due to a sewage spill. At approximately 8,000 gallons, it's more than 10 times larger than any spill in Cornelius waters last year.
It occurred at a private sanitary sewer manhole located at 21328 Nautique Boulevard. The discharge was caused by a blockage in the sewer line. It was removed and the discharge stopped.
The largest spill last year in Cornelius was 630 gallons.
Charlotte-Mecklenburg Storm Water Services staff will monitor water quality in the area until bacteria levels are determined to be suitable for human contact at which time the no swimming advisory will be lifted.
Sewage spills in 2021-23
2021
150 gallons on Yachtman Drive in February
458 gallons on Blakely Shores in March
405 gallons on Paradise Cove in June
200 gallons on Paradise Cove in July
50 gallons on Peninsula Club in September
2,695 gallons on Queensdale in December
2022
520 gallons on Davidson Street in February
84 gallons on Mainsail in March
120 gallons on Peninsula Club in March
630 gallons on Spinnakers Reach in April
600 gallons on Meta in June
515 gallons on Holiday Lane in July
93 gallons on Belle Isle in October
2023
460 gallons Torrence Chapel Estates Circle in May