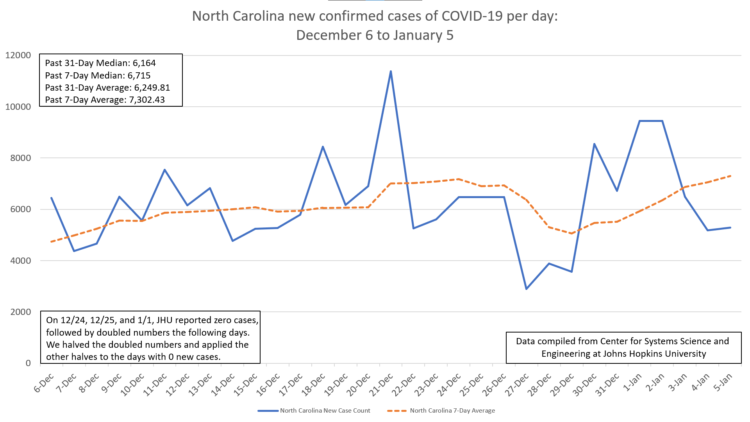 Jan. 6. By Dave Yochum. There were 80 new deaths due to COVID-19 statewide, according to the NC Dept. of Health & Human Services, including eight new deaths in Huntersville. Cornelius has had two new deaths related to the coronavirus this year, neither of them at AutumnCare.
There have been more than 7,000 deaths statewide, with a total of 7,076 since the outbreak began in March.
The number of patients hospitalized with coronavirus reached 3,893, according to today's NCDHHS report, breaking yesterday's record of 3,781 patients.
New cases
New cases are also increasing—6,952 in today's report, up from 5,285 new cases in Tuesday's report. There have been 582,348 cumulative statewide since the outbreak was first tracked in North Carolina.
Positivity rate
The rate of positivity of COVID-19 tests is also increasing. Today's NCDHHS report shows a 17.8 percent positivity rate, up from 16.2 percent yesterday.
Clubs closed
Meanwhile,  The Peninsula Club was closed due to the "exposure of a large group of people."  The member-owned Peninsula Club was expected to reopen for dining today, while the Peninsula Yacht Club, a privately owned company, expects to reopen for dinner tomorrow after having been closed due to the coronavirus Jan. 3.
Mecklenburg County
Mecklenburg County saw 12 new deaths due to the coronavirus county-wide. There were 774 new cases in today's report, up from 610 yesterday. The positive test rate county wide is 13.4 percent, up from 7-8 percent in late November/early December.
North Mecklenburg
Cornelius: 23 new cases; 1,733 cumulative; 19 deaths total.
Davidson: 13 new cases; 907 cumulative; 9 deaths total.
Huntersville: 60 new cases; 3,508 cumulative; 32 deaths total.