June 17. By Dave Yochum. The Peninsula Club will reopen Thursday, June 18, two days after club officially planned to reopen after a number of members tested positive for the novel coronavirus.
The outbreak was traced to members who had golfed, played tennis and used the swimming pool, as well as restaurants inside.
Club closed Saturday
The club first closed down on Saturday. There was a club-wide investigation to trace the movements of the infected members.
At the time four people from two families tested positive, and an infected member played golf. One member who later tested positive, visited the pool June 2, June 6 and June 9. A member who later tested positive, participated in a tennis clinic on May 30 and played tennis on June 8.
COVID-19 cases are still climbing in both North Carolina and Mecklenburg County as more local businesses start to reopen.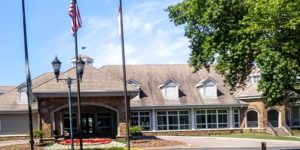 A new report from the NC Dept. of Health & Human Services shows 7,563 cases off coronavirus as of today at noon, up from 5,861 cases one week ago. Cases are running high in the Hispanic community, but not deaths. Deaths due to COVID-19 are predominantly among those over 65 years of age.
Employees leave
A large number of club employees "walked away" when they were informed of positive cases and the possibility of exposure.
"These employees were uncomfortable with the situation and did not feel safe for their own health," club leaders said in a letter to members on Saturday. "The Club cannot require staff to work while they feel unsafe during this pandemic."
Next steps
On Sunday, June 14, all areas of the club were sanitized.
Meanwhile, a professional cleaning company has been contracted to perform a deep cleaning throughout the club today, June 17.
The cleaning material will create a seal and remain on surfaces, providing "unsurpassed durability for 30 days," a letter to members says.
Free COVID tests are being offered to any employee who would like to be tested June 17. Going forward, every employee working inside a building will be required to wear a mask.
Club members are being asked to continue to wear face masks whenever entering buildings at The Club.