June 14. By Dave Yochum. As more local businesses start to reopen, employees of The Peninsula Club have "walked away" from their jobs after an outbreak of the coronavirus became apparent over the weekend.
Meanwhile, county-wide cases of COVID-19 punched through the 7,000 level between yesterday and today.
The outbreak was traced to club members who used the Peninsula pool, tennis and golf areas as well as the restaurants.
There were "several additional confirmed positive COVID-19 cases within the membership," according to a letter sent to members by the president of The Peninsula Club, George Searle, and the general manager, Christophe Hermine.
The member-owned club is closed for the time being, while the Peninsula Yacht Club, a private business on Harbor Light owned by the Matthews-based Morningstar Properties self-storage and marina group, is open and operating.
Half-way in between there was an open house as a million-dollar home, highlighting the yin and yang of the worldwide pandemic. Two-thirds of the deaths associated with the pandemic are among people 65 and older.
Employees 'uncomfortable'
More than half the employees of The Peninsula Club "walked away" when they were informed of positive cases and the possibility of exposure.
"These employees were uncomfortable with the situation and did not feel safe for their own health," the letter said. "The Club cannot require staff to work while they feel unsafe during this pandemic." The club will be fully sanitized today and tomorrow.
Background
The letter came after the Lake Norman Chamber held its first ribbon cutting since February. Mayor Woody Washam attended, wearing a face mask. North Carolina is in the middle—No. 21 nationwide—of regulations covering business and reopening, according to a national study by WalletHub.
But the numbers coming out of the NC Dept. of Health & Human Services are disappointing to say the least. As of noon today, the NCDHHS was reporting 44,119 cases of COVID-19 statewide, up 2,870 from the noon Friday report.
Another death at Autumn Care
The statewide death toll is 1,109, up 17 from Friday's NCDHHS report. In Mecklenburg County there  have been a total of 121 deaths, 20 of them at the Autumn Care nursing home on Zion Avenue in Cornelius.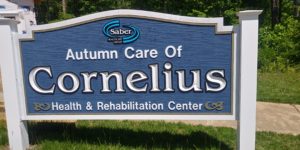 Between Tuesday and Friday there was one new death at Autumn Care, according to NCDHHS.
The Pines in Davidson had its first COVID-19 death as well.
Current statewide data, which can change over time, shows 82 percent of the COVID-19 deaths occurred among those over 65 years of age.
In New York, 66 percent of the COVID-19 deaths occurred among people age 70 and older. Just under 20 percent were between the ages of 60 and 70, according to the New York State Dept. of Health.
New York and New Jersey were the epicenter of the COVID-19 pandemic, with the outbreak peaking in late March and April. North Carolina has seen its cases increase since about Memorial Day, landing us on the national COVID-19 radar along with Texas.
The daily number of new cases across the country seems to be leveling out, according to data from Johns Hopkins University, but more than 20 states, including North Carolina, are seeing increasing numbers of new cases.
Both Texas and North Carolina reported a record number of virus-related hospitalizations. In North Carolina, there were a total of 798 hospitalizations due to COVID-19 as of noon today, up from 760 on Friday.
Comparing NC to NY, NJ
Johns Hopkins University, whose data Cornelius Today tracks, says North Carolina is now logging more new daily cases than New York and New Jersey.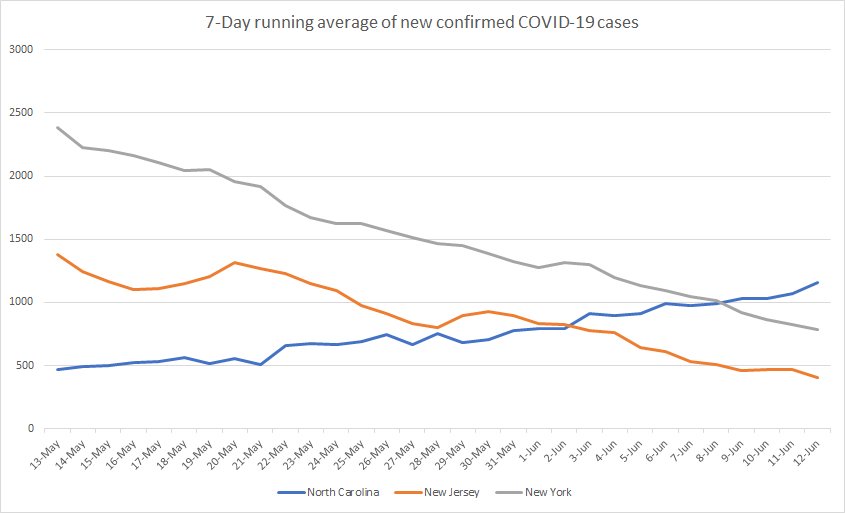 Members affected differently
The membership of the club skews older, but many are not in high-risk groups.
"To be honest I'm not worried in the least. I think far more people have it than we know and have mild symptoms and are unaware. If I were older with underlying conditions, I'd be more worried," said one club member.