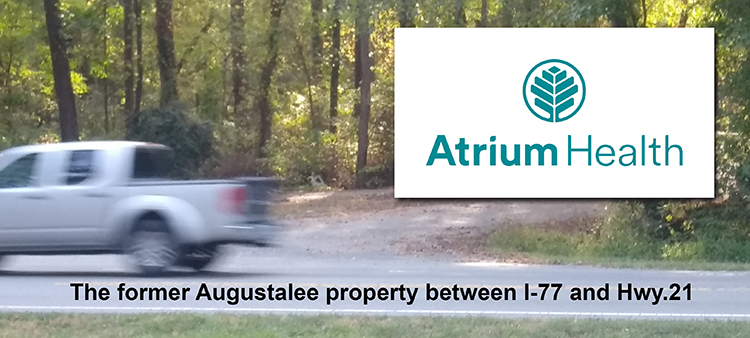 Feb. 24. By Dave Vieser. Cornelius residents anxiously waiting for a hospital in town will have to wait—probably for quite some time.
That was the buried headline coming out of the town's Pre-Development Meeting Tuesday Feb. 23. Atrium presented their initial plans for a 25,000-square-foot medical office building on the southern edge of the old Augustlee/Cook Farm along Hwy. 21, while also suggesting that the hospital will come later.
"This Atrium proposal is actually their first public request for rezoning," said Planning Director Aaron Tucker "and it is one piece of their future master plan."
Certificate of Need tuned down
Two years ago, Atrium Health filed an initial application with the state to build a 30-bed acute care hospital in North Mecklenburg. The facility, which would have been located further north and west of the new office building, would have included two operating rooms.
That application was denied and Atrium has appealed that decision. Atrium's Bennett Thompson said at the meeting "we hope to have some more news in a few months."
Thompson suggested that the hospital project is on a slower track than the medical building.
Their medical office building would be northwest of the yet-to-be-built Bailey Road extension intersection with Hwy. 21.
Town reaction
Town officials expressed interest with the architectural layout of the new complex, noting that it would be one of the first structures which would be seen as people enter Cornelius from the south.
A lengthy approval process awaits the application for rezoning, which has yet to be filed with the town.
"I appreciate Atrium's continued interest in Cornelius as they pursue their Certificate of Need for a new hospital. Thank you to Atrium for demonstrating their commitment to our Town by starting their project with a new medical office building," said Denis Bilodeau, a member of the town's Board of Commissioners.