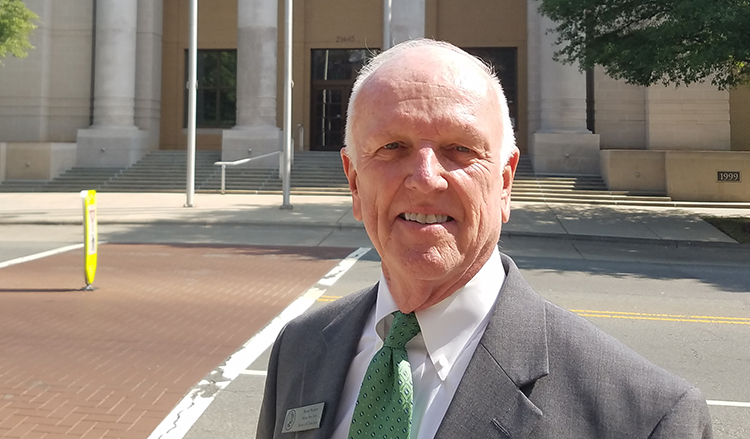 March 1. By Dave Vieser. Mayor Woody Washam has put the Town Board on notice for their March 4 meeting: Be prepared to address the inequity in the town's salary structure.
"We've been studying this issue for many months especially as our salaries compare with those in neighboring communities, and we need to come up with some recommendations on both a short term and long term basis," Washam said.
The mayor asked Town Manager Andrew Grant to develop suggestions on dealing with the salary structure  which can be presented to the commissioners Monday evening.
Since December CPD has lost five employees, including the former chief:
Daniel Bova – Patrol Officer @ $37,024
Bence Hoyle – Police Chief @ $110,718
Jon Rhinehardt – Corporal Detective @ $44,470
Steven Sharpe – Patrol Officer @ $41,184
Daniel Waltman – Corporal Detective @ $50,107
"While we have lost these valuable employees, other towns have stepped up their recruiting efforts. This is a major concern to me," Washam said.
Washam said with the new town budget forthcoming now is the time to address what can be done. "Something has to happen..this issue is not going to go away."
Washam will meet with residents Monday morning at "Connecting Cornelius" at Harvey's at 8:45 am. The mayor will give a "State of Our Town" with a discussion on what is coming next.
"We have had a busy, exciting and positive 2018. 2019 is starting out with a bang, and we need your input," he said.
He is looking for input prior to the Budget Retreat on March 7-8.
Also on Monday, the Town Board is expected to conclude their public hearing on the Retreat at West Catawba project, where the developer is asking for a rezoning which will permit the construction of as many as 60 townhomes on West Catawba Ave, across from the Elevation Church.
The meeting will begin at 7pm in Town Hall on Catawba Avenue.