Oct. 21. Early Voting got under way at 10 am at Cornelius Town Hall and continues through Saturday Oct. 30 at six other locations as well. Voters can cast their ballots starting Oct. 21 in the Community Room at Town Hall.
The first two voters on line this morning—actually there wasn't a line—were Sid Morris, of Cornelius, and Lori Aschenbrand, of Huntersville.
All-local election
This year, all the contests are for Town Board seats, so early voting is a way to meet and engage with candidates outside Town Hall.
Races for positions on the CMS School Board, which would normally have been on the ballot this year, were postponed until 2022 due to late arrival of census data.
Cornelius voters will be selecting all five commissioners for the Town Board out of a field of nine candidates. The race is non-partisan.
Mayor unopposed
Incumbent Mayor Woody Washam is running unopposed while all five incumbent commissioners are seeking re-election. There are four challengers seeking to gain a seat on the board, including Dave Gilroy who has previously served on the Town Board.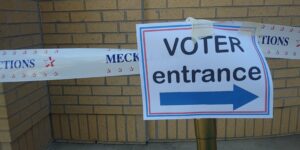 How to vote early
Residents from any precinct—and any town in Mecklenburg—can vote in Cornelius during early voting. Likewise Cornelius voters can vote at other early voting sites in Davidson, Huntersville, Pineville, Mint Hill, Matthews or Stallings.
Early voting schedule
Early voting at Cornelius Town Hall will open at 10 am and close at 7 pm Thursday and Friday of this week; Saturday from 8 am to 3 pm; and Sunday from 1 pm to 4 pm. Voting continues next week.
Click here for the complete schedule.
Election Day
Election Day this year is Tuesday Nov. 2, and polls in Cornelius will be open from 6:30 am to 7:30 pm.
Where to vote on Election Day
• Community in Christ Lutheran Church, 7621 Norman Island Drive
• Jetton Park, 19000 Jetton Road
• Bethel Presbyterian Church, 19920 Bethel Church Road
• Cornelius Town Hall on Catawba Avenue
Questions: Call the Mecklenburg County Board of Elections at 704-336-2133.