March 8. By Dave Vieser. The Cornelius Town Board approved the first step in rebuilding Jetton Road Extension. The $133,000 project was awarded to the CES Group, one of four firms which bid on the project.
Tyler Beardsley, who will be the town's project coordinator, noted that the Jetton Road Extension/Sefton Parkway thoroughfare has been an ongoing safety concern for the town. "The on-street parking and blocked sight triangles create a dangerous situation for both drivers and pedestrians," said Beardsley. "Also, the road surface itself is in poor condition and needs major repairs."
According to the contract between the town and CES, the redesign will:
—Improve safety by removing on-street parking
—Provide bike accommodations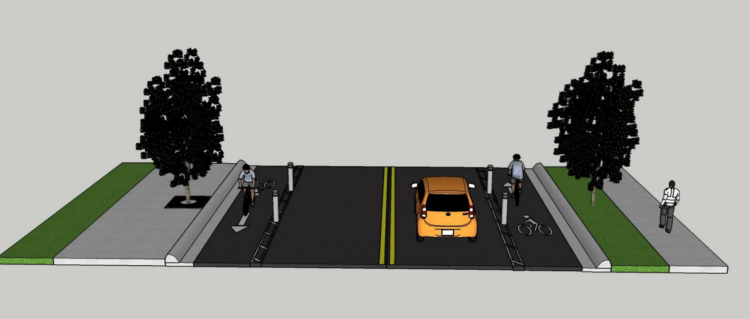 —Add a multi-use path on the south side of the road for pedestrian safety while adding an important piece to the Town's Emerald Necklace.
—The existing asphalt pavement will be completely replaced, which should allow for longer durability.
On-street parking goes away
One thorny question was how on-street parking is handled in the future. Specifically, one office building had nine on street spaces included with their rezoning years ago. Beardsley said the town will build nine spaces on adjacent property they own and deed them over to the owner to "make them whole."
The town also expects to meet with the other impacted businesses along with representatives from Denver-based CES to review options for future parking.
The design work is expected to be completed in six to eight months and the actual road construction is currently expected to take place in town fiscal year 2024, which begins on July 1, 2023. The construction should take no more than a year to complete.
The vote on the contract was 4-0. Commissioner Denis Bilodeau was recused.
In other action, the commissioners:
—Unanimously approved a rezoning on Kenton Place which will permit the construction of Kiddie Academy, a 10,000 square foot one-story day care center just west of the Galway Hooker on land which is currently vacant. No opposition was voiced on the proposal.
—Recognized Lt. William "Chris" Roper for 21 years of distinguished service with the Cornelius Police Department. Roper retired in December and officially received his badge and service pistol at the meeting.