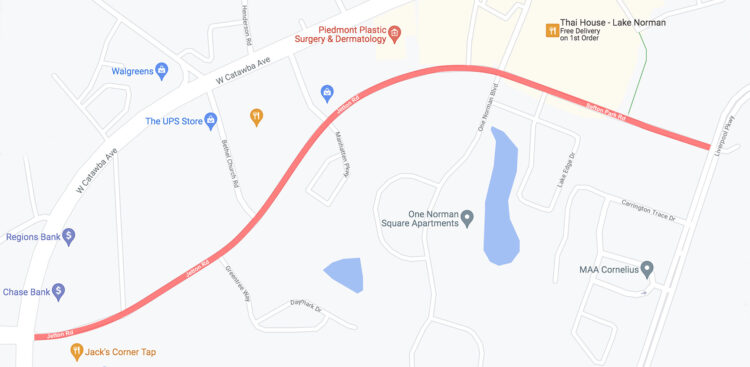 Feb 9. By Dave Vieser
"It's one entire patch…the road is literally falling apart."     
That's how Town Manager Andrew Grant described Jetton Road Extension at a recent Town Board meeting. Few would disagree.
Many people use Jetton Road extension as an alternative to congested West Catawba Avenue.  The narrow two-lane road has numerous curves, parking bump-outs, hills and limited sight distance.   
Unlike most of the major road improvements  scheduled for Cornelius, this one will be a town project, not dependent upon the NC Dept. of Transportation, state funding or timetables.
Deputy Town Manager Wayne Herron told a recent meeting of town commissioners that much of the road was built in pieces by developers as projects were completed in the vicinity. From the onset, heavy use of the road was not envisioned. Indeed, usage of the road was limited but as the town grew and new projects were added, it became a way to avoid delays on West Catawba.
Some $62,500 is currently budgeted to design the rebuilding of Jetton Road extension, as well as its own extension, Sefton Park Road from One Norman Boulevard to Liverpool Parkway.
The town is reviewing the engineering firm's statement of qualifications.
"We expect to have the design contract to the Town Board in March," said Assistant Town Manager Tyler Beardsley.  As for funding, the design is in the town's Capital Improvement Plan.
Construction is budgeted for Fiscal Year 2025 which starts July 2024. The total project cost is $2.2 million, though this will be refined by the engineers as the design progresses.
There will be some improvements funded by the private sector thanks to the Sefton Park mixed-use project which includes 344 multi-family units, commercial space and a hotel site/conference center on 10 acres west of Liverpool.
The developer will also construct their portion of Sefton Park in accordance with the town's new road plans.
Safety issues
On-street parking has been a safety issue. Last spring, the Town Board banned parking in front of the Primrose and Goddard schools. However, a number of businesses along the road were granted on-street parking as part of their rezoning approvals years ago.
What happens to their parking? Town officials said last May that they would initiate discussions with these businesses to eliminate all parking along the road. Those discussions have not yet begun.
"Once we have a design firm on board, they will put together some concept drawings for visualization," Beardsley said.  "At that time, we will communicate with the properties along Jetton Road Extension and Sefton Park Road about the proposed changes and have discussions with the property owners and businesses to get their feedback."
The 25 mph speed limit hints at inherent safety issues. Cornelius Police keep an eye out for speeders. Marked and unmarked cars can be found many days. With two schools, cyclists and pedestrians, safety is a concern.
What's next?
If all goes as planned, a design contract will be presented to the Town Board for their review and approval in March.