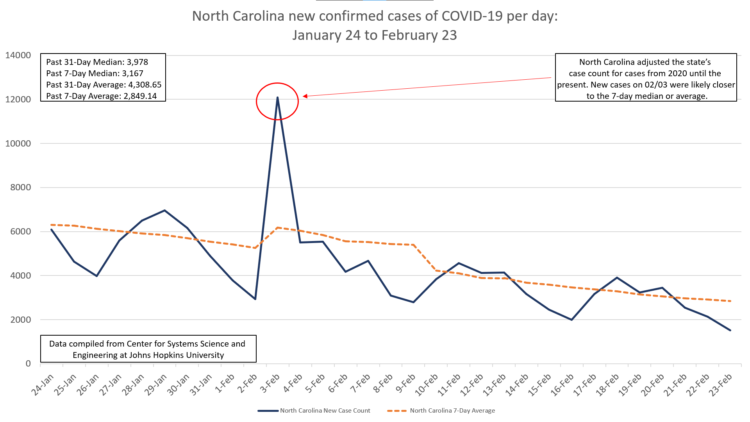 Feb. 24. The NC Dept. of Health & Human Services today reported 3,346 new cases of COVID-19 statewide. The figure is more than double yesterday's total, but well below the median new case volume over the past month. (See chart, based on data from Johns Hopkins University.)
Yesterday's increase of 1,514 new cases in North Carolina was the lowest since early November. To review NCDHHS data directly, click here.
Hospitalizations
Statewide, hospitalizations fell again—to 1,530. On Jan. 24, there were 3,303 people hospitalized in North Carolina due to COVID-19.
Deaths
There were 109 new deaths statewide attributable to the coronavirus, for a total of 11,074 since the outbreak began in North Carolina a year ago. There have been a total of 853 COVID-related deaths in Mecklenburg, an increase of 14 from yesterday. There was one new COVID-related death in Huntersville.
Testing
The statewide positive test rate is at 6 percent; 6.8 percent in Mecklenburg. Five percent is the goal.
Mecklenburg
In Mecklenburg County, the NCDHHS reported 303 new cases.
North Mecklenburg
Cornelius: 15 new cases, 2,474 cumulative; 21 deaths total.
Davidson: 16 new cases, 1,408 cumulative; 15 deaths total.
Huntersville: 22 new cases, 5,054 cumulative; 47 deaths total.