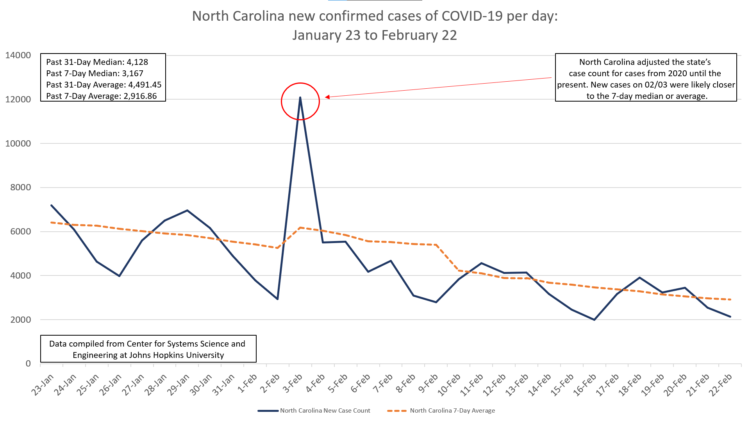 Feb. 23. The median number of new COVID cases during the past week (3,167) vs. the past month (4,128) is down 23 percent, based on data from Johns Hopkins University. (See chart.)
The NC Dept. of Health & Human Services today reported 1,514 new cases, the lowest increase since November.
Assuming necessary regulatory approvals Johnson & Johnson plans to begin shipping enough single-dose vaccines by the end of March for more than 20 million Americans. Click here to read the J&J statement before the US House of Representatives.
Hospitalizations
Statewide, hospitalizations fell to 1,563, down more than 43 percent from the beginning of the month.
Deaths
There were 31 new deaths statewide attributable to the coronavirus, for a total of 10,965 since the outbreak began in North Carolina a year ago. There have been a total of 839 COVID-related deaths in Mecklenburg, up one from yesterday. Gov. Cooper has order flags on state property to fly at half-mast in honor of those who have died because of the coronavirus.
There have been no new COVID-19 deaths in North Meck for 10 days.
Testing
The statewide positive test rate is at 6.2 percent; 6.9 percent in Mecklenburg.
Mecklenburg
In Mecklenburg County, the NCDHHS today reported 214 new cases.
North Mecklenburg
Cornelius: 15 new cases, 2,459 cumulative; 21 deaths total.
Davidson: 5 new cases, 1,392 cumulative; 15 deaths total.
Huntersville: 5 new cases, 5,032 cumulative; 46 deaths total.