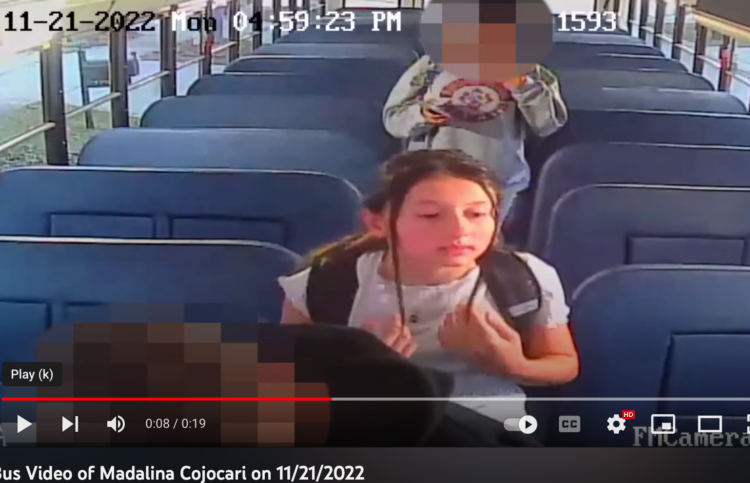 Dec. 20. Camera footage from the school bus Madalina Cojocari was exiting about 5 pm on Nov. 21 has been released by Cornelius Police Police. Click here to view the footage.
Meanwhile, the search continues for the 11-year-old who was reported missing some three weeks after the fact: A second day of searching Lake Cornelius near the YMCA today proved fruitless.
Witnesses sought
"We are seeking additional witnesses outside of the family to narrow down the exact timeline of when she disappeared," Cornelius Police said in a news release this afternoon.
Details
At exactly 4:59 pm Nov. 21 is the last time there is independent confirmation of when the Bailey Middle sixth -grader was last seen.
Madalina's mother and her stepfather told detectives they saw her on Nov. 23.
It turns out Charlotte-Mecklenburg School employees contacted Diana Cojocari on several occasions to inquire about Madalina being absent from school.
After repeated contact, the mother went to Bailey Middle School on December 15, 2022, and reported to the School Resource Officer, Madalina was missing.
Timelines differ
In a police statement, Madalina's mother said she last her on Nov. 23 and her stepfather said he last saw her about a week before that.
Mother, step-father in jail
Both Cojocari and her husband Christopher Palmiter are in Mecklenburg County Jail for failing to report a missing child. Bond is set at $250,000 and $200,000, respectively.
If you have information, call the Cornelius Police Department at 704-892-7773 or 1-800- CALL FBI. #FindMadalina .