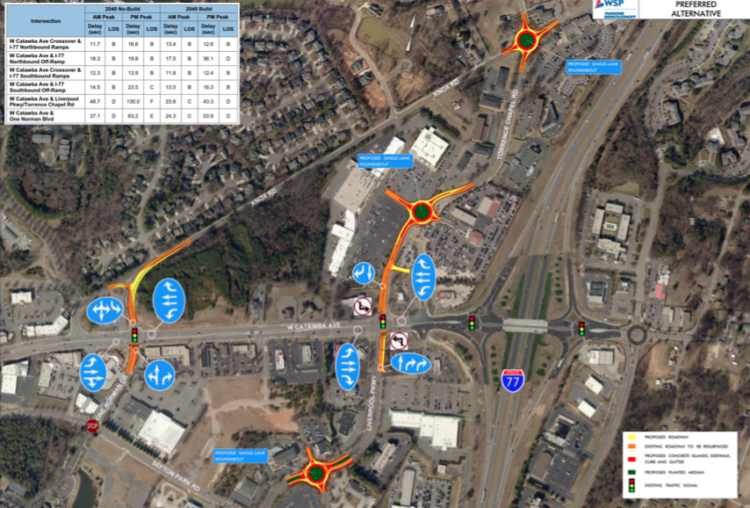 June 3. By Dave Vieser. The Torrence Chapel Road roundabouts may be in peril, as a result of a new analysis provided by the NC Dept. of Transportation. Indeed, the price-tag for three new roundabouts has jumped by some $11.5 million—and since the town would have to shoulder all of the increase,  officials may be ready to pull the plug on the entire plan.
Soaring costs
The cost for the three roundabouts has grown to $28.3 million from $16.8 million, according to Deputy Town Manager Wayne Herron.
"Under our agreement with the state, the town would be responsible for all of the $11.5 million hike in costs. Therefore we are recommending that the NCDOT not move forward with the relocation of utilities and acquisition of property at this time," Herron said.
Rocky reception
Town Commissioner Denis Bilodeau said it's not the worst thing that could happen.
"The roundabouts alone would not have improved the Torrence Chapel /Catawba intersection. NCDOT also proposed the unpopular elimination of left turn movements. Hopefully, a delay will allow for a better, more cost-effective solution," Bilodeau said.
Town staff is recommending not moving forward with utilities and construction and terminating our agreement with NCDOT for this project" Herron said. "This project will either be rescored, or NCDOT and CRTPO may decide to delay construction to find alternative funding sources."
More on this Monday
The issue will be discussed at Monday's pre-agenda Town Board meeting.
Under the original proposal, roundabouts where scheduled to be built at the intersection of Torrence Chapel Road and Knox Road, Torrence Chapel Road and Old Torrence Chapel Road, and at the intersection of Liverpool Parkway and Chartwell Center Drive.
The purpose of the roundabouts was to relieve traffic volume at the busy Torrence Chapel Road/West Catawba Avenue intersection but they were always controversial.
Nationwide trends
Overall, DOT project costs in Cornelius have followed nationwide trends due primarily to inflation. However, the town staff believe the others, including the long awaited widening of West Catawba Avenue, should proceed, even at higher costs.
Construction was scheduled to begin in 2023.