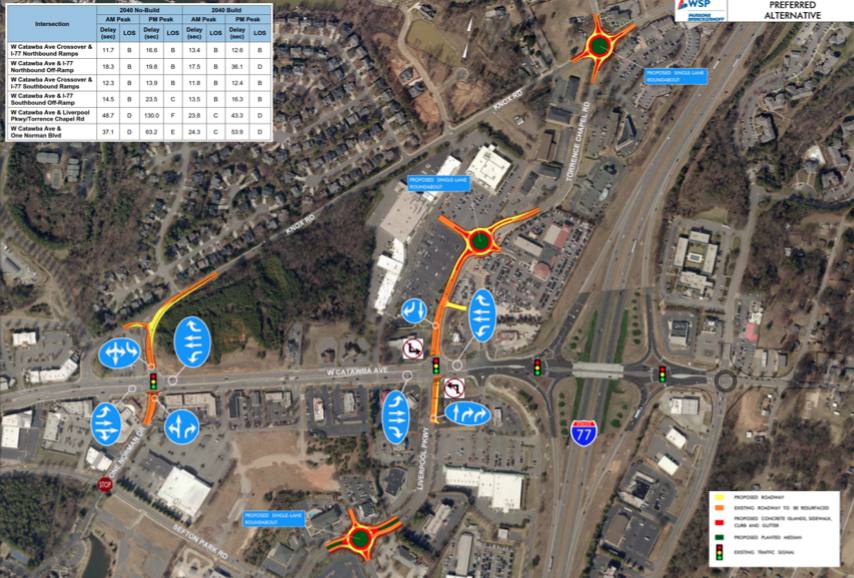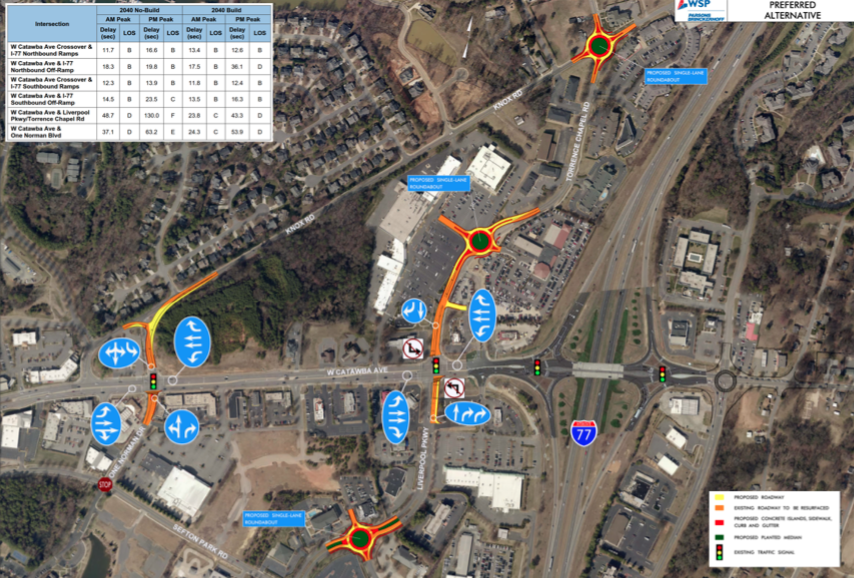 Oct. 21. By Dave Vieser. A total of three roundabouts—like the ones at Exit 30 in Davidson—are the "preferred alternative" for improving traffic flow on Torrence Chapel Road and Liverpool at West Catawba Avenue. Presented at a meeting conducted by the Town of Cornelius and NCDOT consultant, WSP/Parsons Brinckerhoff, the plan did not sit well with most of the 75 people in attendance.
Residents and business owners said the layout would drive traffic down Knox Road where motorists could ultimately turn left onto West Catawba and head east.
"This cannot happen," said Gregg Howard, a resident of Bluestone Harbor. "The traffic shunted our way down Knox Road will make getting in and out of our community impossible."
Jack Salzman, co-owner of Lake Norman Chrysler Jeep Dodge, said he has concerns as well. The plan calls for no left turns from Torrence Chapel onto West Catawba to head east toward I-77 or downtown Cornelius.
The plan calls for roundabouts at Knox Road and Torrence Chapel; on Torrence Chapel between Lake Norman Chrysler Jeep Dodge and the entrance to Fresh Market parking; and on the south side of West Catawba at the Post Office and Mac's Speed Shop.
The goal of the plan is to improve traffic flow at the Torrence Chapel/Catawba intersection. The Torrence Chapel intersection is one of the two "bookends" which flank the Exit 28 Diverging Diamond Intersection. Due to their close proximity, traffic can stack up, particularly on either side of I-77 and along Torrence Chapel. The town and Parsons Brinckerhoff personnel have been working on variety of options.
The "preferred alternative" looks like this:
Vehicles traveling on Catawba Avenue will be able to continue making left turns onto Liverpool Parkway/Torrence Chapel Road but left turns from Liverpool Parkway/Torrence Chapel Road onto Catawba Avenue will not be permitted. Motorists will have to proceed straight ahead to new roundabouts and then return to Catawba to complete their left turns as a right turn.
Prohibiting left turns onto Catawba Avenue would eliminate the signal phase that would have permitted left turns. By removing the left-turn phase there would be more green time at the intersection equaling less time waiting at the intersection.
Traffic circles/roundabouts will be built on Liverpool Parkway near Mac's Speed Shop, and on Torrence Chapel Road midway through the entrance to the Fresh Market/Steinmart shopping center. Engineers believe this will facilitate traffic as vehicles utilize alternate routes to access Catawba Avenue from these two streets.
An additional roundabout would be added at the Knox Road/Torrence Chapel Road intersection to expedite traffic flow and eliminate the angled intersection which has poor sight distance on Knox Road from the west.
On-street parking near the One Norman Drive/Catawba Avenue intersection (at Starbucks) would be converted to a right-turn lane. By creating the right-turn lane, traffic making a right onto Catawba Avenue will have their own lane. This will reduce traffic back-ups on One Norman Drive by giving through traffic and right-turn traffic their own separate lanes.
According to Jason Gorrie, traffic engineer from WSP/Parsons Brinckerhoff, the preferred option will be presented to the Town Board within the next several weeks for their feedback. If the town agrees with the proposal, the design phase will commence next year, and construction will begin in 2018, with a tentative completion date of 2020.
William Rakatasky, a Massachusetts native, was discouraged by the use of small traffic circles in several portions of the plan. "These mini-traffic circles are worthless" he told the engineers at the meeting.