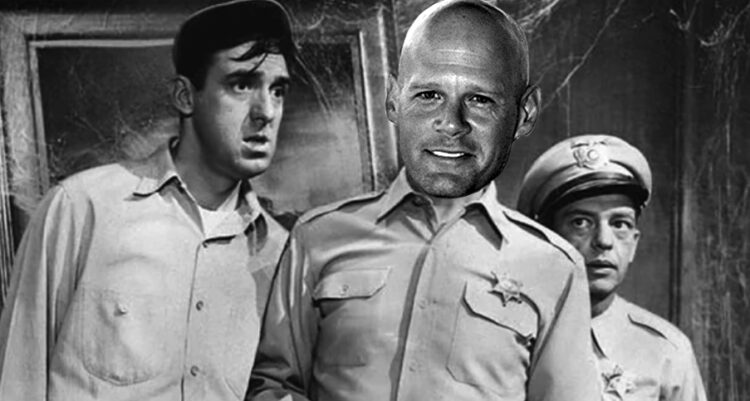 MODERN DAD | By Jon Show
Aug. 5. [Humor] Welcome to North Carolina, new people. It seems like we've gained a lot of you over the last couple years.
I can tell there are more of you here now because I hear more horns in traffic. To those of you honking, please stop. You're in the south and you'll get there when you get there. Horns are rude and most people in the south have guns in their cars.
I'm not kidding.
I'll greet you by reminding you that you are no longer in the north. Or the Midwest. Or the west. As such, no one here cares how you did it "back home." This is your home now.
It seems like moving to the south and complaining about some things in the south are rites of passage, so allow me to help expedite the process.
Food
Let's start with the food. We don't have bad food just because we don't have the same food where you used to live.
Get out and find yourself a good chicken bog, fried flounder, smoked trout, johnny cakes, soup beans or collards. There ain't a vegetable on earth that tastes better than a collard if you know how to cook them.
The only exception might be a tomato sandwich. Garden variety tomato. Sliced. Between two pieces of white bread with salt and pepper and a smear of Duke's mayo. Yes, Duke's. We only have one acceptable mayo here.
Please be aware that barbecue is a noun in the south. You don't have a barbecue, you have a cookout. You eat barbecue, not pulled pork. Yes, barbecue is pork but it's only one or two specific cuts of pork, unless you're fortunate enough to come across a whole hog place and, if you do, please stop and eat there.
Bless your heart explained
If you don't stop at the whole hog spot because you think it's gross that food is served in a building that looks like an old gas station, well, bless your heart. Also please note that bless your heart doesn't mean someone's praying for you. It means they think you're an idiot.
Your journey to acceptance of the south will be quicker as soon as you know that wherever you've relocated from is definitively a worse place than the Old North State. If you don't feel those words in your soul then you just haven't found the good spots yet.
I'll get you started if you need a suggestion.
Experience NC
Hike the four miles straight up Three Top Mountain to see what I think are the best 360 degree mountain views I've ever seen. Grab a beer at Lagerheads (nee Buddy's) after a day spent body surfing at Wrightsville. Spend an hour pulling native speckled trout out of our high-elevation creeks. Cruise the lake at dawn.
There are many other amazing experiences in North Carolina but you're going to have to find them on your own. I don't think there's a better state to jump in your car and go exploring.
While you're here you should also learn some of our history, but keep in mind you have to dig deep to find the history of southern towns because we tend to tear most of it down to build new stuff.
Get to know Cornelius
In the mid-1800s a guy named R.J. Stough built a cotton scale near Main Street so local farmers didn't have to travel to Charlotte or up the muddy hill to Davidson to weigh their crops. A few years later a guy named J.B. Cornelius financed construction of a cotton mill and that's why you live in Cornelius.
Not all of our history can be found in books.
The traffic on I-77 south that backs up right before you get to Cornelius? That started years ago when women used to flash truckers from their boats and it's somehow persisted for more than a decade despite the addition of buoys to keep boats away from the riprap.
Twenty years ago three people in a ski boat in the middle of the night jumped the riprap in that same location and hit a car on the other side of the highway. Think about that the next time you tow your grandkids on a tube through the main channel.
It's the lake, silly
It's called the main channel because the  lake used to be the Catawba River before it was dammed in the early 60s. As such there are farmhouses and roads and bridges buried under our waters. You should know things like that now. You live at the lake.
Of course Cornelius exists in its current form because of the lake. Yes, it's just called the lake. You can drop "Norman." There's another lake to the south of Charlotte but it's really a river and sometimes people find alligators in there so we just get to be called the lake.
It's not perfect here, of course. Nowhere is. Most of the south has always struggled with its past and what it wants to be in the future.
Development is a way of life
Often that means turning our rolling farmland into sprawling developments and throwing up strip malls like we're desperate for more grocery stores and office buildings.
As such, we have traffic that will allegedly improve once the state widens our roads with planned improvement projects that were announced when Future Man was in kindergarten and are now projected to be completed when he graduates high school. I wish I was kidding.
Perhaps the roads are a metaphor for the south in general. It seems like we're always trying to make things better but sometimes we just can't seem to get it 100 percent right.
I promise you'll learn to love it here, if you haven't already. Sometimes you just have to let go of where you were and embrace where you are now. In the meantime you can take comfort in something that we all have in common, no matter where we hail from.
We all hate Duke.