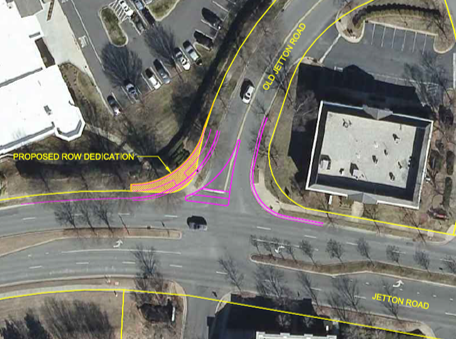 April 3. By Dave Yochum. Sources say Harris Teeter is not cooperating with the Town of Cornelius on plans for a "pork chop" turn from Old Jetton onto Jetton, heading into The Peninsula. So named for the shape of a median that would prevent left-hand turns toward West Catawba, the pork chop dispute may be headed to court if the town proceeds with condemnation. (It's the triangle in the illustration.)
No one is talking on the record because of the possibility of litigation.
It's apparently not the amount or property involved—it's a minimal amount—but the ease of ingress and egress from the popular grocery store to which Harris Teeter objects.
Drivers who would want to head toward West Catawba would have had to go the other way on Old Jetton by Dutchman's and head more or less in the wrong direction to finally make a right on West Catawba—or turn right on Jetton and make a U-turn into often aggressive traffic to reach West Catawba.
There would be other ways to thread the needle with the new intersection, but they involve traipsing through residential neighborhoods.
Speeding on Jetton
The intersection of Old Jetton and Jetton is one of the most dangerous in Cornelius.
Back in February (remember February?), the town added signage and pavement markings at the intersection directing drivers to make right turns only. That was Phase I.
Phase II, according to a press release was installing the concrete pork chop to prevent drivers from making left turns onto Jetton Road or crossing Jetton Road into the Peninsula Village shopping center where Brooklyn South and Waterbean are located.
The town said a traffic analysis found that although traffic is relatively low, the intersection has one of the highest accident rates in town.
"The intersection of Old Jetton Road and Jetton Road has been a topic of conversation for quite a while," said Town Manager Andrew Grant.
"We have been exploring ways to make the intersection as safe as possible, with minimal impact to local businesses and patrons. We appreciate the feedback and support from the community as we continue to work at keeping Cornelius safe."
What about big trucks?
How 18-wheelers would negotiate a new system for ingress and egress is anybody's guess.
If they turn right onto Old Jetton and then have to make a right onto westbound Jetton they are left with an impossible U turn or traversing residential streets. If they turn left onto Old Jetton to reach Catawba they must negotiate a challenging right turn to enter westbound Catawba.