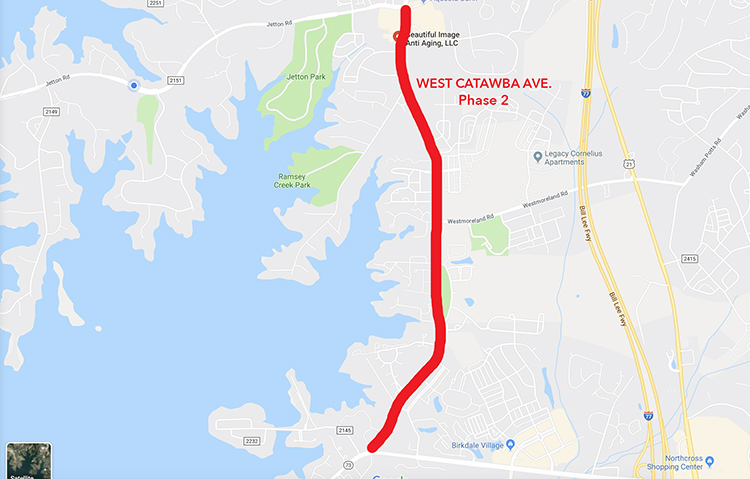 Aug. 23. Phase II widening of West Catawba Avenue in Cornelius, scheduled to begin late next year, will be delayed by as much as three years, according to the NCDOT.
The delay may affect local real estate developments, including the $110 million-plus Alexander Farms project at the intersection with Westmoreland, as well as debt financing.
"I would think the Catawba Phase 2 widening would be instrumental as we consider any development," Mayor Woody Washam said. "I would certainly want that development and others tied to the widening completion."
The developers of Alexander Farms told Cornelius Today Friday afternoon they will be evaluating the impact of the construction delay and "will mitigate" any impact.
The town's bond financing for Phase 2 West Catawba widening may also be affected, said Mayor Pro Tem Michael Miltich. A study of how delays will affect financing of the $38 million widening project is getting under way now. The town will pay about 15 percent of the total cost of the widening project through debt.
Under the new timetable, fiscal year 2023 is the new target date for construction which will widen the heavily used two lane highway from west of Jetton Road to Sam Furr Road (NC 73)  into a four-lane, divided thoroughfare. NC 73's widening is being pushed back as well.
It means major development projects like Alexander Farms and the Houser property opposite Elevation Church will regroup. Cambridge Square in the old Foursquare Church/River Church, however, is on track.
NCDOT officials say unanticipated expenses and slow reimbursements have played a major role in the schedule changes, while local officials note that the state budget stalemate hasn't helped either.
"State law requires NCDOT to maintain a balance of $282 million in its transportation funds," said spokeswoman Jennifer Thompson.
Because of Hurricane Matthew-related expenses, slow disaster repayment from the federal government and other factors, NCDOT is working to stay above the mandated fund balance.
"Projects such as the West Catawba widening are not going away, but being delayed in an effort to balance funds," Thompson said.
She said the NCDOT was hit with a number of weather-related expenses in the winter, such as rockslides and non-hurricane floods. "From 2004-2016 we averaged $66 million a year in storm recovery expenses we don't recoup in reimbursements.
But since 2017 it has been over $220 million a year.
"Like a household budget when you have an unexpected major financial hit, like needing a new roof or replacing a furnace/AC unit, the money has to be taken from somewhere else in your budget," Thompson said.
Reaction from local officials and residents was mixed. "One of the reasons for all of this is that the state budget hasn't been passed, and that results in uncertainty in NCDOT funding," said Miltich.
All told, 48 projects in Mecklenburg, Iredell, Union and Cabarrus Counties will be delayed under the new schedule from one to three years. Final approval of the revised schedule is expected when the state transportation board meets on Sept. 5.