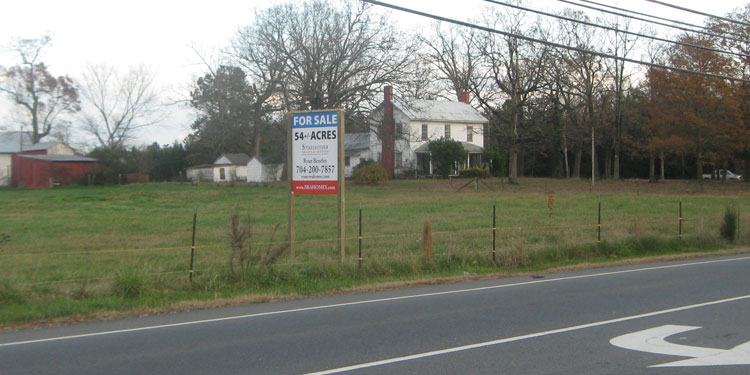 Aug. 6. By Dave Vieser. With an overflow crowd on hand at Town Hall, residents spoke out Monday evening about a proposed mixed-use development at the Alexander Farm property in Cornelius during the first of two public hearings. No decisions were made by the Town Board on the proposal which has a mix of commercial/retail and age-restricted housing, along with over four acres dedicated to parkland.
The project, at the northeast corner of West Catawba Avenue and Westmoreland Road, would be called Alexander Farms and at build-out it would be valued at more than $110 million.
The plan has been informally presented to town officials and residents during the past two weeks but Monday's hearing was the first opportunity for residents to comment in a more formal, official setting. Prior to the public comment, the developer suggested that some changes had been made to the plan, but the plan mirrored what they presented at the community meeting in late July.
Under questioning by Mayor Woody Washam, the attorney for developer Win Development said they were still trying to find space for a fire station.
"We take this need very seriously," Washam reminded her. The attorney, Susan Irvin, said Win was indeed taking a hard look at adding a fire station to the plans.
There was also concern raised about the value of the four acres of parkland being donated by the developer due to limitations imposed by Duke Power's overhead lines. Town Parks Director Troy Fitzsimmons said he would take a closer look.
Other speakers had varying concerns. "I am against this proposal if it contains a gas station," said Elizabeth Carlson who lives nearby in the Kings Point development. "Those gas pumps would also be right across the street from ballfields and they can be magnets for crime. Why do we need one there when there are so many nearby?"
Dick Douglas, who moved from Ohio two years ago, represented the HOA Townhomes just north and west of the site. "We are concerned about potential cut-throughs from this development going into our community. We already have a major parking issue."
Robbins Park resident Bill Morgan said he liked the overall concept but is also concerned about streets being connected to his community.
Traffic was also a major concern for resident Bill Sykes. "Traffic in Cornelius is horrible day in and day out. I implore the board to phase this development in order to assist our citizens to have access to their homes."
In closing the hearing, town officials estimated that the approval process for the project could last until early next year under the very best of circumstances."It's a long process," Washam added.
Next step will be the development of a Traffic Impact Analysis (TIA) which is paid for by the developer. Traditionally, a TIA takes 4-5 months to be completed by engineers and approved by the DOT.
Here's the breakdown on the new proposal
Retail/commercial: 18.75 acres are planned for development, fronting on West Catawba Avenue, Westmoreland Road and new interior roadways. Approximately 85,000 square feet are to be set aside for this segment, including 29,000 square feet on Catawba for a "grocer." No specific chains were mentioned.
Retirement residential: A 130-room resort style residential age-restricted apartment complex would be located on a new interior roadway which will run from the intersection of Catawba Avenue and Village Harbor Drive eastward, then southeastward until intersecting with Westmoreland Road. The housing would encompass approximately five acres.
Age restricted residential: Approximately 84 detached units are planned on 18 acres, also on the interior section of the property, starting north of the retirement residential and extending eastward.
Finally, 4.35 acres is reserved for parkland within the extreme northern section of the property, behind the age restricted residential units.
The highly visible site, one of the last large parcels in Cornelius, was actively farmed until 2013 by the late Eugene Alexander, a graduate of the old Cornelius High School. He died New Years Day 2014 at the age of 96.