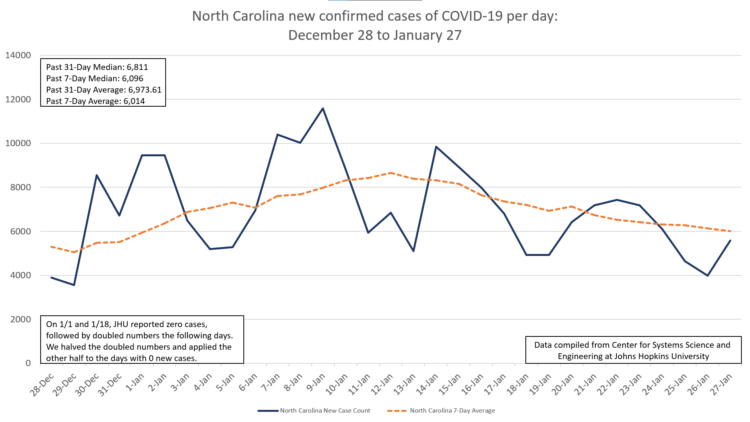 Jan. 27. The NC Dept. of Health & Human Services reported 6,490 new cases of the coronavirus today, along with 131 new deaths due to COVID-19. The median number of new daily cases during the past week (6,096) is 11.7 percent below the median daily volume (6,811) over the past month, based on data from Johns Hopkins University.
Hospitalizations
The NCDHHS today reported 3,238 people hospitalized statewide, down from 3,305 yesterday.
NCDHHS Secretary Dr. Mandy K. Cohen said the data are improving, but it remains essential to practice the three W's. "Remember people can have COVID-19 and not know it. The best way to protect those around you is to act as if you do have the virus and could be contagious. That means always wearing a mask – over your mouth and nose, always waiting apart from others, and always washing your hands frequently," she said.
Vaccines
Vaccine supply continues to be "very low;" Cohen said she is hopeful more is on the way.
Deaths
There were a total of 131 new deaths statewide in today's NCDHHS report, for a total of 9,046 since the outbreak began. In Mecklenburg, there were two new deaths, one of them in Cornelius.
Testing
The statewide positive test rate is at 7.9 percent statewide; 11.6 percent in Mecklenburg.
Mecklenburg
In Mecklenburg County, the NCDHHS reported 628 new cases. There have been 743 deaths countywide due to the coronavirus.
North Mecklenburg
Cornelius: 19 new cases, 2,164 cumulative; 21 deaths total.
Davidson: 5 new cases, 1,165 cumulative; 12 deaths total.
Huntersville: 32 new cases, 4,424 cumulative; 38 deaths total.