Resolution seeking 90 day moratorium heading for the Governor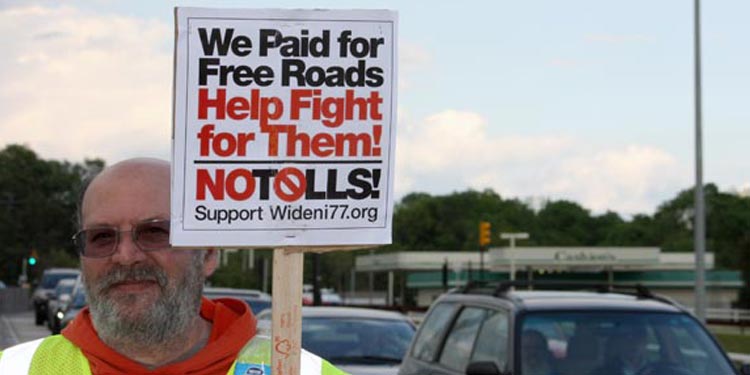 By Dave Vieser. With a large turnout of residents looking on, the Cornelius Town Board unanimously passed a resolution at their May 4 meeting calling on the state to impose a 90-day moratorium regarding the I-77 toll lane project. The unprecedented action comes just days before the state and Cintra, the Spanish based private builder, were due to close on the controversial roadway's financial closing package.
Among the major concerns being voiced by the Commissioners is whether Gov. Pat McCrory's recently unveiled $3 billion Connect NC bond issue could fund the construction of new general purpose lanes on I77, rather the using the highly unpopular toll lane concept.
Online polls conducted by Cornelius Today during Monday May 4 indicated over 90 percent of those responding to the poll were in favor of imposing the moratorium. It appears that the commissioners got the message.
Milton Gander hammered home the financial burden tolls would put on the average working man. He questioned, "Why are we developing one road system for people who have a lot of money and another lesser road system for those who don't?"
The I-77 project would create high-speed lanes for those willing to pay to use them. Others, short of money or not in a huryy, would be required to deal with the normal congestion that currently exists on the general purpose lanes that are free of charge.
"Not to sound like a broken record," said Commissioner Dave Gilroy, who prepared the resolution, "but I have always thought toll lanes for I-77 was a huge policy mistake. The closing has already been extended several times without financial penalties. Let's do it once more to allow for an independent review and audit of the DOT's contract."
Melissa O'Gorman of Cornelius agreed.  "A 50-year agreement is unheard in this day and age. This means my son will spend virtually his entire life driving on this toll road."
Before casting his vote, Commissioner Jim Duke reminded the board as well as the audience that a similarly constructed letter from State representatives Jeff Tarte and John Bradford last fall went nowhere. "This time, I would hope those in Raleigh would understand our sense of immediacy and urgency. Please listen to the community."
Generating concern over the past week among the commissioners was an internal memo from Assistant Town Manager Andrew Grant. In the memo, which was published online by Cornelius Today last week, Grant said this: "It appears nobody has a clear understanding" of a key component in the 50-year contract with a Spanish company. Local leaders on a state level are also expressing concerns about the $655 million plan.
The memo reveals the Cintra contract limits the region's ability to undertake north-south road improvements that could diminish its ability to collect tolls on new "Lexus Lanes" on I-77. The contract says that new roads that relieve congestion on I-77 would result in a "Compensation Event" for Cintra. The contract was revised without the town staff knowledge, according to Grant.
Also at the May 4 meeting:
Mayor Chuck Travis began the meeting by announcing that Cornelius Police Lt. James Quattlebaum had been released from the hospital and was recovering nicely. "This past weekend was a very difficult time as one of Cornelius' finest was shot in an apparent ambush attempt

Saturday

 morning. We are truly grateful that Lt. Quattlebaum is OK." Police Chief Bence Hoyle added that all the officers involved in the shooting "are ready to get back to work and put this difficult event behind them." He also acknowledged the tremendous support Cornelius received from the surrounding departments and their personnel during and after the May 2 incident.
The town board unanimously approved a rezoning request from the Grace Covenant Church concerning a 1.25 acre parcel, just south of the new Cross Fit building on Smith Circle. Grace Covenant's goal is to provide under-resourced families and youth with after school and weekend Christ centered programs at that location. No physical treatment programs or overnight services are planned. The proposal was met with strong community support.  "It's good for the kids to have a safe place to go after school," said Cornelius resident Theresa Schwab. "I'm very much in support of this proposal."
District one school board representative Rhonda Lennon provided the board with a school district budget update. She made special note of the fact that the student population at Hough High in Cornelius continues to grow even though the area housing count is fairly stable. "We attribute this primarily to charter school students who return to the public school system and complete their high school years at Hough, which is recognized as an outstanding facility."