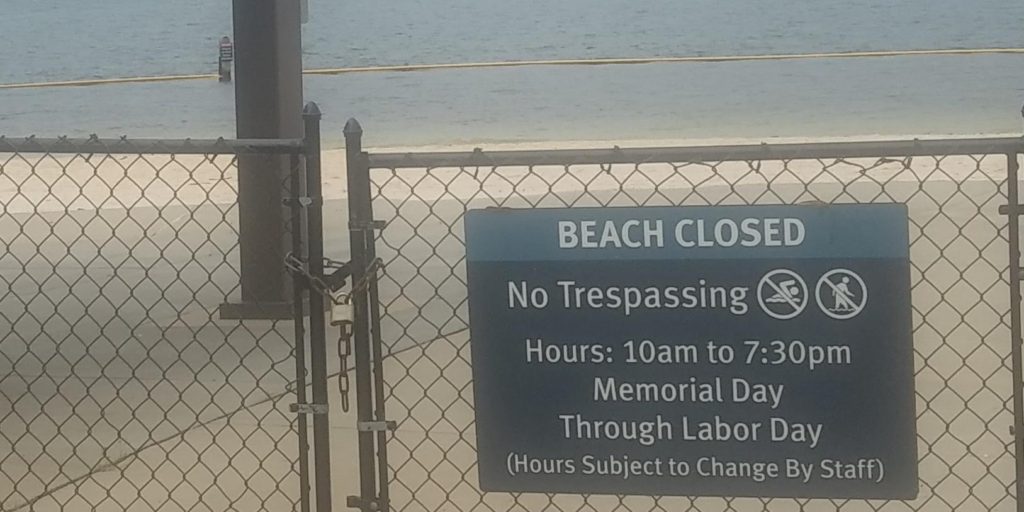 May 23. Ramsey Creek Beach, the subject of considerable controversy when it first opened in 2016, will not be opening for Memorial Day weekend, according to county park workers near the locked gates to the beach Saturday morning.
Mecklenburg County's only public beach may not open any time soon, either.
Refloating public swimming
It's all due to the fallout from COVID-19 and the logistics around operating a swim facility—whether beach or pool.
Lifeguards must watch the water and the people—and children—in it. It's really not possible to add on another layer of responsibility, namely enforcing social distancing.
The county apparently can't add staff just to maintain social distancing. County officials could not be reached for comment.
Lifeguard shortage
But, lifeguards, often young people in college, train for their American Red Cross certification starting in late winter/early spring, when the novel coronavirus was shutting down pools, exercise facilities and colleges across the country.
Now there's a nationwide shortage of certified lifeguards.
How to make public spaces work during the COVID-19 pandemic is a nationwide issue. Beaches in New Jersey are open, but in some cases public restrooms are closed.
Last weekend, there were "a lot of crowding issues" on the Jetton Park beach, which is not open for swimming whether or not there's a 100-year pandemic.
It was packed, with very little distancing being practiced, and it had to be shut down.
Ramsey Creek Beach opened with much fanfare and controversy four years ago. It has since died down with more care around public transportation to the park, which also has a popular boat ramp and dog park.
The boat ramp at Ramsey Creek is open as is the dog park.
Jetton Park beaches have never been open for swimming and there are no lifeguards.