July 29. By Dave Yochum. There were 45 deaths due to COVID-19 between yesterday's NC Dept. of Health & Human Services statewide update and today's. It's the largest daily death toll so far.
The NCDHHS says the number of new cases was 1,763, somewhat higher than yesterday's increase of 1,729.
Nevertheless, the rate of increase is easing off of previous weeks. Based on data from Johns Hopkins University, the median number of daily new cases is 1,849 over the past week, negligibly higher than the median 1,837 daily new cases during the past month.
However, the total number of people hospitalized statewide set a record: 1,291, up 47 from yesterday. A month ago only 843 people were hospitalized due to COVID-19. Also about a month ago, daily new cases were climbing into the 1,800-plus range, peaking at more than 2,400 around July 11.
North Carolina's trajectory of hospitalizations is increasing, but the state still has hospital capacity. The White House coronavirus task force lists North Carolina among the states in the "red zone" based on adding more than 100 cases per 100,000 people between July 18-24.
Mecklenburg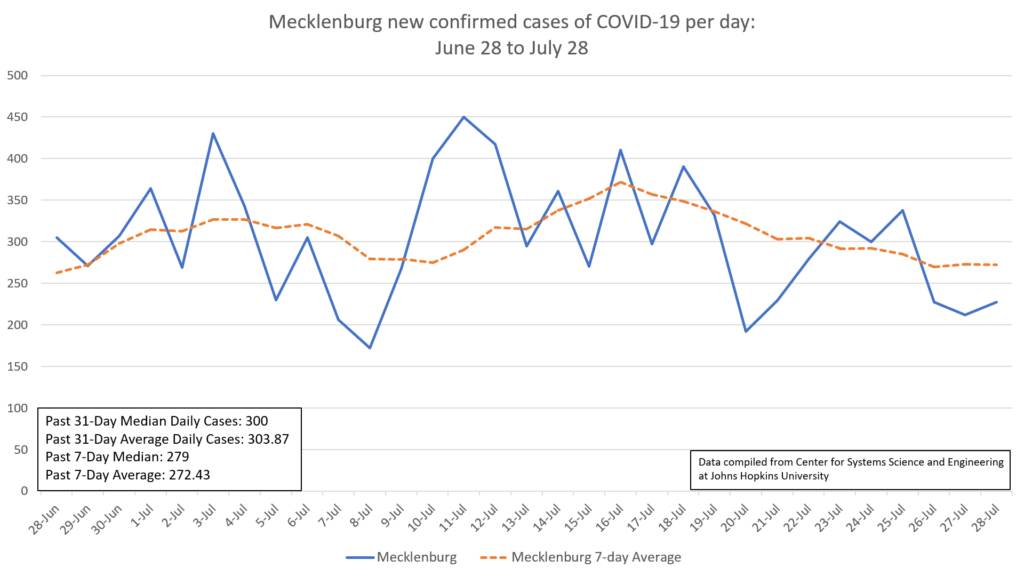 In Mecklenburg County, there were three new deaths and 217 new cases between yesterday and today, for a cumulative total of 19,924 cases since the NCDHHS began tracking COVID-19 statewide in March.
Based on data from Johns Hopkins, Mecklenburg accounts for an average of 14.4 percent of the state-wide cases per day over the past seven days.
North Meck towns
Cornelius now has 336 cases, six new from Monday/Tuesday to today's report. Deaths due to COVID-19 remain at 16, virtually all of them at Autumn Care, the nursing home on Zion Ave.
The NCDHHS is reporting three new coronavirus cases in Davidson, for a cumulative total of 174. There have been four deaths in Davidson.
In Huntersville, the NCDHHS is reporting six new cases of the coronavirus, but no new deaths.