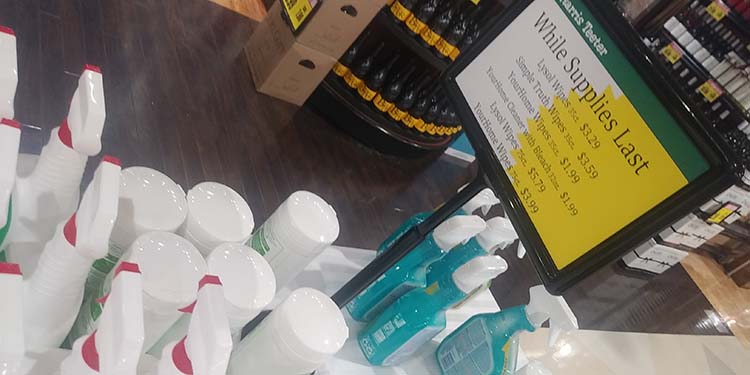 March 10. By Dave Yochum. Grocery stores are starting to post signs about potential shortages. Clerks at the Harris Teeter on Old Jetton are saying they can't predict when some cleaning supplies will be replenished. Meanwhile, Gov. Roy Cooper declared a state of emergency to cope with the coronavirus.
There are now more than 750 confirmed cases, according to live data from Johns Hopkins.
Meanwhile, NY Gov. Cuomo has declared a "containment zone" in New Rochelle.
Three weeks of supplies
"I think it would be prudent to have three weeks of non-perishable food available in case you self-quarantined," said Dr. Mike Miltich, a town board commissioner. He explained that water and electricity will "probably not be affected, you just need to be able to sit tight for three weeks."
Among other things, medical doctors are recommending that people wash their hands thoroughly and frequently, maintain a reasonable social distance and avoid touching your face.
Gov. Cooper's declaration activates the Emergency Operations Center to help agencies coordinate from one location and makes it easier to purchase needed medical supplies, protect consumers from price gouging, and increase county health departments' access to state funds.
"The health and safety of North Carolinians is our top priority. We are taking the necessary steps to ensure that North Carolina is prepared and responding to this virus, and this order helps us do that," said Cooper. "Though we are still in the early stages in North Carolina, time is a valuable resource and we must work together to slow the spread while we can."
Concerted effort
In addition to Cooper's emergency declaration, the North Carolina Department of Health and Human Services (NC DHHS) is making several recommendations to slow the spread of COVID-19 and reduce the number of people infected.
Key provisions in Cooper's order will help with the cost burdens and supplies that may be difficult for providers and public health to access due to increased demand. It also increases the state public health department's role in supporting local health departments, which have been tasked with monitoring quarantines, tracing exposure and administering testing.
Today's updated NC DHHS recommendations are based on guidance from the Centers for Disease Control and Prevention (CDC), current actions by other states, and the most up-to-date epidemiologic information available to protect the public's health.
Many of the recommendations are targeted at protecting people at high risk of severe illness, which includes adults over 65 years, those with underlying health conditions including include heart disease, lung disease, or diabetes, or with weakened immune systems.
Additional recommendations are being made for residents of the Triangle region. On March 9, 2020, NC DHHS confirmed 5 new cases of COVID-19 in Wake County, increasing the total in the county to 6 and statewide to 7.
"We all play a role in keeping our communities safe and healthy. These precautions can help us slow the spread of this virus and protect our more vulnerable neighbors," said DHHS Secretary Mandy Cohen, M.D. "Let's be guided by compassion and reason and work to support each other as a community."
The following recommendations pertain to persons and establishments STATEWIDE.
HIGH-RISK PERSONS
NC DHHS recommends that people at high risk of severe illness from COVID-19 avoid large groups of people as much as possible. This includes gatherings such as concert venues, conventions, church services, sporting events, and crowded social events. People at high risk should also avoid cruise travel and non-essential air travel.
ADULT CONGREGATE LIVING FACILITIES
NC DHHS recommends that all facilities that serve as residential establishments for high-risk persons described above should restrict visitors. These establishments include nursing homes, independent and assisted living facilities, correctional facilities, and facilities that care for medically vulnerable children.
MASS GATHERING EVENTS
NC DHHS recommends that event organizers:
Urge anyone who is sick to not attend.
Encourage those who are at high risk, described above, to not attend.
Adopt lenient refund policies for people who are high risk.
Find ways to give people more physical space to limit close contact as much as possible.
Encourage attendees to wash hands frequently.
Clean surfaces with standard cleaners.
Meanwhile, meetings are being cancelled or delayed around the country.
According to Northstar Meetings Group, these events have been canceled, moved or postponed:
—South by Southwest, Austin's massive tech, music and film festival scheduled for March 13-22, has been cancelled. The decision came after Austin Mayor Steve Adler declared a local disaster in the city and issued an order canceling the conference. "We are devastated to share this news with you," organizers wrote in a statement on the SXSW website. "'The show must go on' is in our DNA, and this is the first time in 34 years that the March event will not take place. We are now working through the ramifications of this unprecedented situation."
—The Next Web, originally scheduled to take place in Amsterdam on June 11-12 has been postponed to October 1-2 in the same city.
Questex announced the cancellation of its The Beauty Experience NY and International Esthetics, Cosmetics and Spa Conference, scheduled to take place March 8-10 at New York City's Javits Center.
—Reed Exhibitions' ReedPOP division announced on March 6 that it would postpone the Emerald City Comic Con, scheduled to take place March 12–15, at Seattle's Washington State Convention Center.
—Reed's security show ISC West has been postponed from March 17-20 in Las Vegas to July 2020. "Over the coming weeks, along with ISC West's Premier Sponsor [Security Insurance Association]  – we will continue to serve the industry, creating ways to connect, collaborate and keep our world moving during this difficult period," the organizers wrote in a statement on March 6.
—Global health care conference HIMSS, scheduled to take place in Orlando March 8-13, has been cancelled. The event was expected to draw 80,000 attendees, and feature President Trump as a speaker. Hal Wolf, president and CEO of HIMSS, said in a statement: "Based on evaluation of evolving circumstances and coordination with an external advisory panel of medical professionals to support evidence-based decision making, it is clear that it would be an unacceptable risk to bring so many thousands of people together in Orlando next week."
—The NXT Global Summit, which expected to attract about 1,000 attendees focusing on emerging trends in technology and media, has been cancelled. It was scheduled for July 14-15 at the Las Vegas Convention Center.
—Qualtrics has postponed its X4: The Experience Management Summit, scheduled to take place in Salt Lake City on March 10-13. The event, expected to attract 16,000 attendees, has been moved to the fall.
—Engineering company Aruba Networks' Atmosphere'20 Las Vegas has been rebranded Atmosphere'20 Digital, and will take place as a virtual event on March 23-27, rather than in Las Vegas, as originally planned. "Over the next week, we will communicate a new schedule of video delivery for our top Atmosphere conference sessions," the organizers wrote in a statement. "We plan to broadcast the opening keynotes as scheduled on March 24th and will offer virtual breakout sessions. With so many technologies to announce and explore, we hope you'll join us for an exciting online event."
—Starbucks' annual shareholder meeting, scheduled for March 18 at Seattle's WAMU Theater, has been shifted to an online event.
—On March 4, Creative Artists Agency mandated that agents and their clients should only meet virtually for the next two weeks.
—The World Bank and International Monetary Fund have announced that their 2020 IMF-World Bank Spring Meetings, which usually attracts thousands of economic officials to Washington, D.C. will be held in "virtual format."
—Adobe Summit, the software company's customer and employee conference, scheduled to take place March 29-April 2 in Las Vegas, will now be an online-only event.
—Business software company SAP has cancelled all in-person events for March 2020, including travel and expense customer conference Concur Fusion, scheduled for March 9-12 in Orlando; SAP Ariba Live in Las Vegas; SAP NOW events; and third-party events, including South by Southwest.
—Google I/O, the tech giant's developer event expected to bring 7,000 attendees to the Shoreline Amphitheater in Mountain View, Calif. on March 14-16, has been cancelled. It noted in a statement that, "Over the coming weeks, we will explore other ways to evolve Google I/O to best connect with our developer community."
—Google Cloud Next, expected to take place April 6-8 at San Francisco's Moscone Center and attract 30,000 people, has become Google Cloud Next '20: Digital Connect, which the company describes as "a free, global, digital-first, multi-day event connecting our attendees to Next '20 content and each other through streamed keynotes, breakout sessions, interactive learning and digital "ask an expert" sessions with Google teams."
—Seafood Expo North America/Seafood Processing North America, expected to attract more than 22,000 attendees to Boston on March 15-17, has been postponed. "Details on when and where will be communicated directly with customers in the next month," Liz Plizga, group vice president of Diversified Communication, the show's producers, wrote in a March 3 statement. "Depending on date and location availability, the event might look slightly different for 2020 but will continue to provide the opportunities to connect suppliers and buyers in the industry."
—The International Housewares Association has cancelled its annual Inspired Home Show, scheduled to take place at Chicago's McCormick Place on March 14-17 and was expected to attract more than 60,000 attendees.
—The American Physical Society has canceled its 2020 APS March Meeting, expected to attract more than 10,000 physicists to Denver. The event had been scheduled for March 2-6.
—Organic-product trade show Natural Products Expo West, scheduled to take place March 3-7 in Anaheim, Calif., has been postponed. It's organizers stated on March 3, "it is our intention to deliver a Natural Products Expo West event by the summer to serve the community" and that its Expo East event in Philadelphia is still going forward as planned.
—CERAWeek by IHS Markit, the energy conference scheduled to take place in Houston on March 9-13, has been cancelled. "Our number one concern is the health and safety of delegates and speakers, our partners, our colleagues and vendors. We have spent the last several weeks focused on this question, established a medical partnership with Houston Methodist Hospital, have been in continuing dialogue with experts on infectious disease, and established an extensive protocol. But the spread of COVID-19 is moving quickly around the world," its organizers wrote in a statement.
—Tech research firm IDC canceled its Directions conference that had been scheduled for March 4 in San Jose, Calif. The company is going ahead with a Directions event taking place March 10 in Boston.
—Facebook canceled this year's edition of its F8 developers conference, previously scheduled for May 5-6 in San Jose, Calif., and expected to attract more than 5,000 attendees. The social media giant had previously canceled a 4,000-person marketing conference scheduled for San Francisco's Moscone Center from March 9-12.
—Nvidia has canceled GTC, its GPU Technology Conference, scheduled for March 22-26 at the San Jose Convention Center, making it an online-only event. According to a statement from a spokesperson for Visit San Jose on March 4, beyond these events, "everything else on our calendar is currently being actively planned. For those that canceled, we will welcome them back when next they're here."
—The Game Developers Conference, scheduled to take place at San Francisco's Moscone Center, was canceled.
—Multilevel marketing cosmetics company Beautycounter canceled its Lead 2020 conference, scheduled for March 5-7 at the Moscone Center, stating, "We are working on an alternative approach that will allow attendees to experience LEAD via live stream. Please stand by as we will update you as soon as possible."
—Zendesk canceled its Zendesk Relate conference, which had been scheduled for March 3-5 in Miami.
—Software company Domo canceled its March 17-20 conference, Domopalooza, in Salt Lake City.
How to get your money back:
Click here for a resource that provides the most relevant information regarding event and travel reimbursements during COVID-19. This guide explains the process to expedite refund requests.