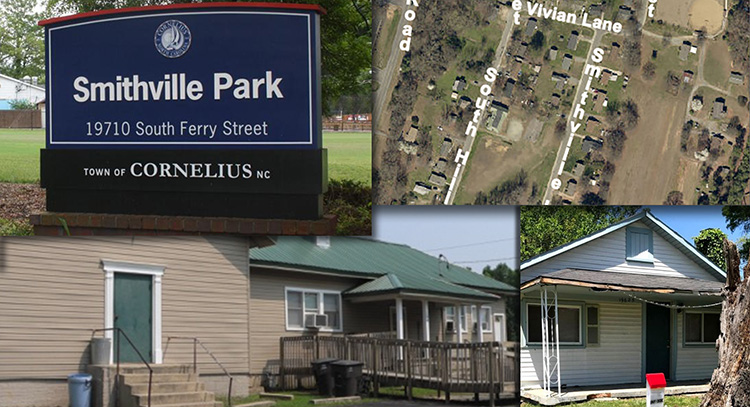 April 9. By Tonya Rivens. At the first open community Zoom meeting of the Smithville Community Coalition, approximately 23 residents along with Mayor Washam and several Town Commissioners heard about their ambitious revitalization plan for the Black community just east of I-77.
Observers say there is no consensus yet as to how to revitalize and preserve the historic neighborhood.
When Commissioner Thurman Ross asked what is next, SCC Board member Willie Jones said "the plan was moving forward and that they could not afford to miss another funding cycle."
The SCC board is asking for roughly $750,000 from the Town of Cornelius in addition to the $3.5 million from Mecklenburg County.
SCC also wants the town to donate town-owned land to the effort. Eight properties are involved.
Gentrification leaves people behind
"Gentrification will surely set in sooner than later and we should work hard not to lose this significant part of our town. Land values are on the increase everywhere, including Smithville. The location of Smithville is the gateway to our quickly developing and changing downtown area," said Mayor Woody Washam.
SCC leaders have spent the past two years meeting with residents, town leaders, and philanthropic partners to develop the Smithville Revitalization Plan.
Its primary goals are to help seniors stay in their homes, modernize streets and sewers, and develop new, affordable housing.
But it's controversial, and some residents say they have not been consulted and don't completely understand the plan.
Tijuana Springs, a Smithville native said "the proposed plan changes Smithville to a big city model."
She said she is not sure if everyone fully understands the plan.
"Change is coming however my preference is to beautify what is currently there, improve landscapes, renovate homes and preserve what's in the community," she said.
Springs is unsure of how her property fits into the plan.
What is the plan?
It is designed to create affordable housing options, allowing current residents to remain in their homes and protect the legacy of Smithville.
The neighborhood would be developed as multi-ethnic, mixed-income, mixed-tenure with primarily working class residents. There would be a total of 167 units on empty land or vacant buildings, consisting of 65 apartments and 102 homes or townhomes.
Home prices are projected to range from $217,000 to $296,000. 
The plan states that it is is based around six "justice" principles:
—No residents in occupied homes will be displaced
—The "New Smithville" will honor its legacy as a historically African American neighborhood, which will include the renovation of the Smithville Community Center and create Smithville Arts
—Seniors who currently own their homes can continue to live in them until they are ready to sell
—The initial phase of the revitalization will be limited to sections of empty land and vacant buildings
—Residents will not be displaced by escalating real estate taxes from the revitalization
—New development would be mixed-income and mixed tenure with the majority of new development targeting specific income levels.
A seventh principle states that everyone will be compensated fairly for their land and houses. The plan also includes new streets and expanding Smithville Park.
Much research
Mayor Pro Tem Denis Bilodeau said the plan has been carefully researched. 
He admitted that it may need some tweaks but he is looking to move forward. Bilodeau said "a key hurdle is participation however no other plans were presented."
He said that pushback is created from lack of trust but remains hopeful that residents will sit down to discuss their concerns.
Commissioner Thurman Ross agrees with changes to the infrastructure.
However, he said that there are more options than the current plan. Ross, a Smithville native, feels that "gentrification doesn't have to be negative and displace current residents."
He also said that trust is crucial for the plan to be successful. 
"Stakeholders must buy in and trust the players presenting the plan," Ross said, suggesting that current residents should be encouraged to use their voices to create a plan that allows them to help themselves.
The town has been missing
Could improving Smithville's infrastructure be a viable option to revitalize the neighborhood? Commissioner Jim Duke thinks so.
"The Town hasn't been there for the neighborhood. We need to fix it and fix it right. I love that Smithville is charming and has a rich history and spacious yards. Let's fund initiatives to improve the quality of life for residents. Perhaps, request that Charlotte Water improves infrastructure by upgrading the water/sewer system with a complete revamp," said Duke. 
He feels that residents need a plan that will help and support them, not add density and import poverty.
Jones, who explained that public investment would be paid back over time in property taxes, said "an urgency is created because of the large number of seniors and the likelihood that ownership will switch within a short time."
Jones also referred to the bus system of the future that will encourage development.
A rare assemblage of land
He said that "Smithville has over 20 acres of empty land in an urban space, which is rare. There are no other options and no alternatives were presented. The unspoken alternative is that nothing will happen, which is dumb and ahistorical."
Most residents agree that a change in their community is inevitable, but rampant gentrification eliminates a shared history.
Define change
Defining what that change will look like, how to accomplish it and maintain the Smithville legacy is where the opinions vary.
Vertie Torrence, a Smithville native, a senior and a SCC board member, said she doesn't want to upset lifelong residents. She also expected homes on vacant lots to reflect the current homes.
Torrence asked "why not use funds to renovate current homes, provide a facelift?" At the same time she expressed concerns about incongruous new homes that are much larger causing property taxes to increase.
More information
She said she doesn't think residents understand all the moving parts.
Pat Torrence, a Smithville native and Vertie's nephew, agreed and said that he's not sure if everyone is properly educated and familiar with the plan.
He suggested a good start would be to educate residents on their options and how they can monetize wealth based on what they currently own, which would result in people working together.
Torrence feels that "residents need to be educated on how it benefits them since they are not knowledgeable about real estate and gentrification."
Another SCC Board member, Lisa Mayhew, agrees. "I get it and I do understand. I do know that change is hard because it requires one to have to change."
She said, simply: "If not this, then what?"
Executing the plan
SCC would create an internet-based application lottery system to target existing residents, heirs, children, grandchildren, great grandchildren or former landowners, employees of the Town, first responders living in the County, Charlotte Mecklenburg Schools employees.
Community benefits include $10,000 to current owner-occupants who agree to give SCC the first right of refusal if the home goes on the market, funds for current owners adjacent to redevelopment and funding for demolition and relocation.
The plan also needs personnel including a project manager, liaison/organizer, town support, marketing, information technology and lottery administrator.
Much potential
Some former residents of the community are expressing interest in investing. 
Shawan Gabriel, a Smithville native, who owns two properties in Smithville and owns a Real Estate Firm, said he is not in favor of the plan or the group heading up the effort.
He said he plans to return to Smithville and is looking to purchase additional property. Gabriel said the plan in its current form doesn't really benefit the residents.
Regardless, the neighborhood is suffering.
"We are in trouble folks," Mayhew said at a Town Board meeting.
Action needed
For his part, Jones said he hopes to make sure current residents can stay in Smithville while also attracting new people.
Jones said action is needed now.
"I see 2024 as the tipping point for Smithville's survival," he said.
• Journalist Tonya Rivens was raised in Smithville where her mother still lives.
Tentative timeline for Smithville Plan
Master Planning: March 2021 through May 2021
Acquisition: March 2021 through October 2022
Civil Design & Construction: May 2021 through December 2022
Rental Development:  May 2022 through September 2024
Philanthropic Funding: October 2020 through December 2021
Organization/Staffing: January 2021 through September 2021
Develop Design Standards: May 2021 through December 2021
Select Builders: November 2021 through March 2022
Demolition: July 2021 through February 2022
Relocation: April 2022 through October 2022
Entitlements/Permits: August 2021 through August 2022
Construction of Homes: December 2022 through May 2024
Marketing Sales: February 2023 through August 2024
Community Benefits: August 2023 through September 2024