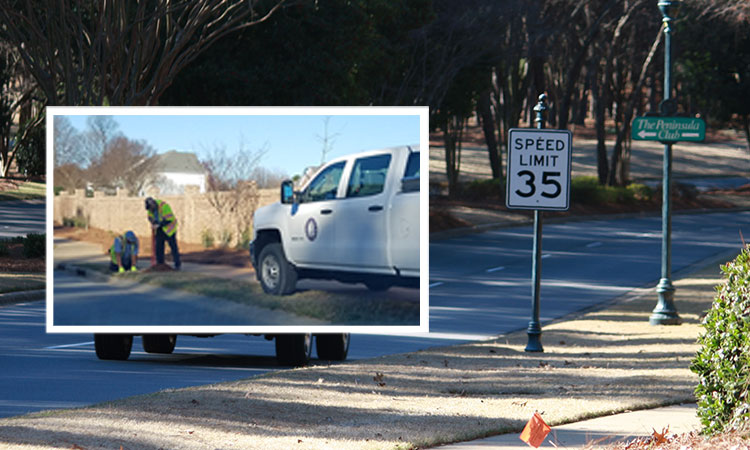 July 17. Dave Vieser.  Town officials are looking at yet another way to fix the Old Jetton/Jetton Road intersection: Prohibit left turns or straight movements from Old Jetton Road. The new option would leave traffic departing the Brooklyn South parking lot as it is now.
Meanwhile, commissioners discussed raising the speed limit back to 45 mph—or perhaps 40 mph—at a Board of Commissioners meeting.
But Peninsula residents Janice and Jeff Lawrence said higher speeds are dangerous for cyclists who use Jetton for recreation, not to mention pedestrians and children. "I'm blown away that a neighborhood could have a speed like 45 mph," Jeff Lawrence said, pointing out that speeds are  lower on commercial boulevards like West Catawba. Jetton speed limits varied from 25 mph to 35 mph to 45 mph until last year when the town reduced the 45 mph area to 35.
Cycling advocate Will Washam left the town Planning Department this spring for a job in Charlotte. The town invested $45,000 in a bicycle study.
There have been four fatalities on Jetton due to excessive speed, none because of "normal" traffic. "But what we don't know about are the near-misses," Lawrence said, explaining that pedestrian-friendly and bike-friendly communities are the norm in younger, more progressive locales.
The town missed a golden opportunity for a more contemporary community when Jetton was re-surfaced three years ago without accommodations for cyclists, Lawrence said.
But much of the attention at last night's discussion focused on the problematic intersection of Old Jetton—in front of the Harris Teeter store—and Jetton.
"We've conducted two surveys in order to receive input and feedback from the community," said Tyler Beardsley, assistant town manager, "and it appears most people were against the proposal which would prohibit left turns or straight ahead movements from the Brooklyn South parking lot."
Beardsley said that most of the opposition was centered on the need for a U-turn at West Catawba for the traffic coming from the parking lot. As a result, the town analyzed the accident rates at the intersection, determining that most of the accidents occurred from the Old Jetton Road side.
The new option is to prohibit left turns or straight ahead movements from Old Jetton Road, leaving the Brooklyn South traffic as it currently is.
However several residents noted that this would just shift the "turning" problem further west on Jetton Road.
Meanwhile, Commissioner Denis Bilodeau suggested a Jetton Road "corridor improvement program" to address traffic flow and other issues such as sight lines and visibility.
"Clearly, there are many opinions out there on this issue," said Mayor Woody Washam, "and I also think we need to plug our Police Chief into this discussion. I recommend we continue to review this over the next several weeks and then make a final decision."
The newly reconstituted Transportation Advisory Board, which once came out for a 35 mph speed limit on Jetton, has not been consulted on the latest proposal to raise speed limits.
Also at the town board meeting:
Named Danielle Miller and Micheal Osborne to fill vacancies on the Planning Board, while designating Dr. Cameron Bearder, Ed Marxen and Phil Bechtold as alternate members. The board also recommended that the county commissioners reappoint Hardy McConnell to represent the town's ETJ on the planning board.
Adopted a change in the town code which will permit reverse angle parking. Such parking is designated for Market Street in the Antiquity section, a road for which the town just accepted maintenance responsibility.
Received a lengthy report from Mecklenburg County Assessor Ken Joyner, indicating that about 55 percent of all Cornelius properties have been revalued as part of the countywide revaluation. "The average residential increase in assessed values is looking like about 32 percent, but that's subject to change as more properties are valued," said Joyner." Commercial increases are running higher, at about 48 percent.
Approved the issuance of $6.7 million in general obligation bonds to fund transportation and park improvements. Authorization for these bonds was included in the referendum approved by voters in 2013.