​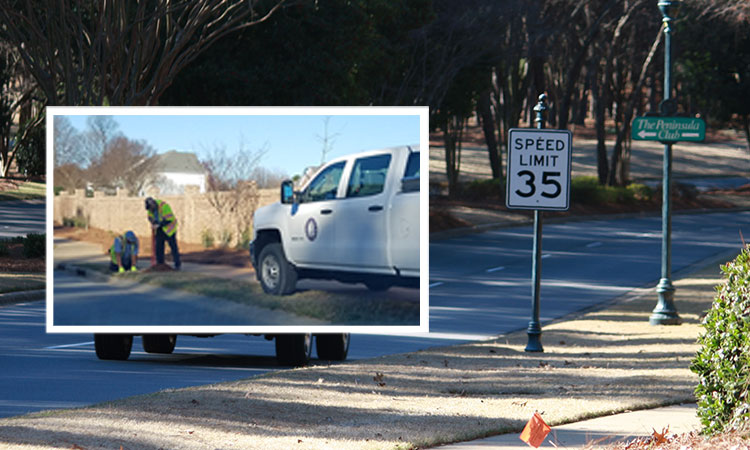 Feb. 13. By Dave Yochum.  New speed limit signs are going up today on Jetton Road. While the speeds will be lower, urban planning types, not to mention Realtors, expect a gradual increase in economic development and real estate values as Cornelius becomes a kinder, gentler place for Millennials and Baby Boomers.
The most cycling-friendly towns and neighborhoods are "that much more attractive to younger and older people," ​says Brian Jenest, founder of Cole​ ​Jenest & Stone, the land planning and urban design firm behind the Billy Graham complex in Charlotte.
​A Davidson ​town commissioner, he said cycling is a "very viable way" to create the street-level ambience that attracts new businesses and homebuyers alike.​ Davidso​n has done well with an emphasis on the human side of roads and infrastructure. It is the home of top employers like Valspar and MSC Industrial, as well as a wide array of high-demand residential neighborhoods, both newer and older.
"Any time you can create places that provide options for people to move around, whether bikes or walking, it is providing options to the car that are important," ​Jenest​ said.
​Golf is not the same​ as it was
Golf courses were a major driver 25 years ago, not so much now. In fact, Bloomberg put out a news story in August of last year with this headline: "America's Golf Courses Are Burning." They reported that 800 courses have closed in the past decade.
​"Co​mmunities that have more choices around walking and cycling—not just automobiles—are "the ones that enjoy greater success and greater value and greater economic success for the community and greater values for the property owners," ​Rose​ said.​
​Today's "knowledge worker" is in high demand in places like Portland and Seattle, and even Kannapolis where the North Carolina Research Center is helping transform the thinking around downtown. There, urban planners are seeing to it that there are not just bike lanes and lower speed limits, but facilities for bike storage. Kannapolis has just invested in covered bike parking at the Amtrak station.
​A safer town
Of course, safety is paramount, and most people think erring on the side of safety is smart. There have been a host of car accidents on Jetton near the commercial strip between Charlestowne Lane and Aquesta Bank, in particular around left-turn options at Old Jetton. The 45 mph stretch ran about a mile from West Catawba to just west of Peninsula Shores.
Mayor Pro Tem Woody Washam said it is important for Cornelius to "more seriously consider every opportunity to make our town safer for pedestrians and cyclists."
"Millennials and the ​B​aby ​Boomer population simply expect this. We need to keep our millennial population interested in living here to supply the work force in order to properly promote quality economic development in our town and region. This current and future population looks for such things as greenways, bike paths and pedestrian/bike friendly streets. Also, when these quality of life needs are met, people in all stages of life will want to live here thus maintaining or increasing our property values. While we have made great strides in our town, we are not there. It will take many additional quality of life enhancements to keep Cornelius economically sound to ensure that we are the best of the best," Washam said.
​​Not everyone agrees
​Phyllis Deaton, a senior citizen who has lived off Jetton Road since 1972,​ said she is "not very happy with the 35 mile per hour change beyond Jetton Cove​" in a post on CorneliusToday.com.
"This town has basically turned the roads over to the bicyclist and walkers. The heck with the car traffic! There are miles of sidewalks and trails at taxpayer expense for walkers and now we are expected to give up the roads for bikers safety. This is asking too much of our road system and car traffic. Very bad move​," she said on the first news post about the speed limit reduction on Jetton http://corneliustoday.com/speed-limit-reduced-jetton​.
​The difference between d​riving ​a mile at 35 mph and 45 mph is 22 seconds​.​
Mecklenburg County School Board member Rhonda Lennon ​said she is "in support of lower the speed limit on this residential thoroughfare that is used by CMS buses every day."​​ Indeed, a backpack carried by one of Laura and Jim Engel's children was actually hit while the child was crossing Jetton.​
​Davidson resident John Cock is an expert on cycling accommodations as ​economic development. He is vice president of Alta Planning + Design, a nationwide consulting company specializing in bicycle-related economic development.​ "From a demographic and economic development perspective, we are seeing huge changes. The boomers are retiring and the millennials are buying homes. Both of these groups are wanting to lead active lifestyles," Cock said​.
​Town commissioner Jim Duke said the lower speed limit makes sense. "​Slowing traffic down dovetails nicely when it comes to safety and the direction the Town is taking to bring more biking, jogging, and walking to our town residents​," he said.​