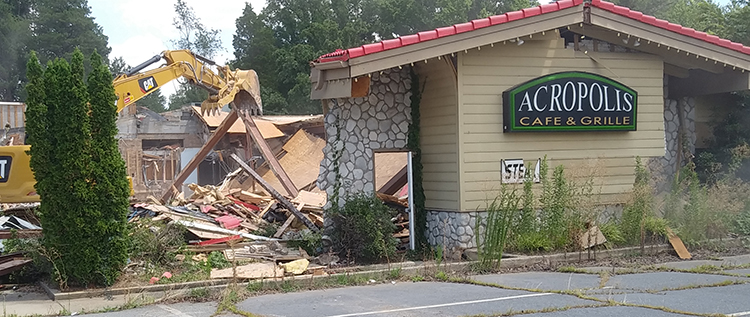 The old Acropolis has been torn down to make room for a long-awaited Quik Trip convenience store and gas station. The entire project, which called for a 5,700 square foot QT had been on hold waiting for the NCDOT to finalize its plans for the Catawba/Hwy. 21 intersection. At last check, it was planning twin roundabouts to handle the traffic, one south and one north of the current intersection.
Acropolis, famed for homemade dishes like lemon chicken soup, closed two years ago after denying that the property was sold.
Cornelius Mayor Woody Washam says progress at the site has been painfully slow.
"I have asked Town staff to work closely with QT as they seek to resolve issues with NCDOT and the new right-of-way being acquired for the new dual round-about at the intersection of US21 and Catawba," Washam said.
The Town has provided a preliminary approval to the amended site plan with the new dual round-about right-of-way.
Final site and landscape plans were sent to the town in late June. Town Staff will be able to approve the plans almost simultaneously with their submittal, Washam said.
This will allow QT to go directly to Mecklenburg County for demolition permits and grading and development permits for the new development, he explained.
Meanwhile, the clock is running on the availability of I-77 toll lane bonus allocation funds which would help fund intersection improvements.
Last fall, QT had said "if the DOT decides to use the twin roundabout plan, we will not be developing a store in the town of Cornelius."
QT has already spent over $3.8 million on the project.