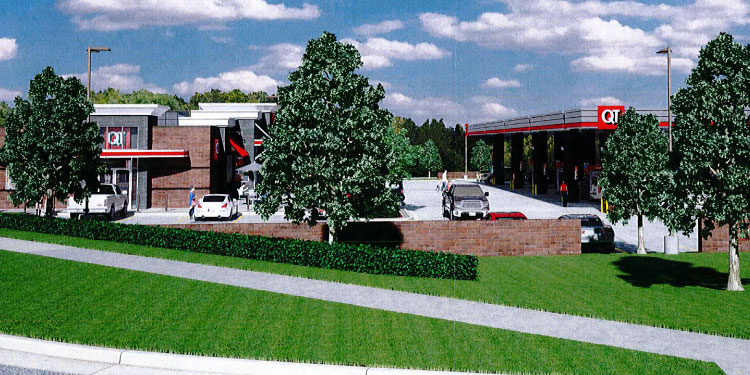 Nov. 3. QuickTrip Corp. has officially filed plans to develop a 5,773 square foot QT convenience store and gas station on the site of the Acropolis restaurant and the adjacent Citgo just east of the mast and sail design on the Diverging Diamond Interchange.
Half of the 3.16 acre site will be developed for the building and infrastructure while the other half of the property will remain pervious. The site is across Catawba from Cashion's Quick Stop.
John DiBernardo, real estate manager for QT, said the Oklahoma-based company will continue to expand in the area. A Huntersville resident, he said QT will continue to expand in the Charlotte region. QT has two locations in Mooresville and six in Cabarrus County.
The store will have a total of 15-20 employees, including five or six store managers. Clerks are generally high school and college students, he said.
"We had a lot of requests for a location in Cornelius," he said.
QT has a policy of promoting from within. The privately held company, founded in 1958, has been on Fortune magazine's Best Companies To Work For during the last 14 years.
DiBernardo, 29, started out as a night assistant with QT when he was 22 years old and just out of college.
He was promoted to a QT day manager, then into the Dallas market and then to help expand the Carolinas market, first as real estate project manager and then as an official real estate manager working on site selection and acquisition.
QT has nearly 20,000 employees in 700 stores.
DiBernardo said he did not realize the superstructure over the Diverging Diamond Interchange represented masts and sails. It was the inaugural effort of the state's "Art That Moves You" program.