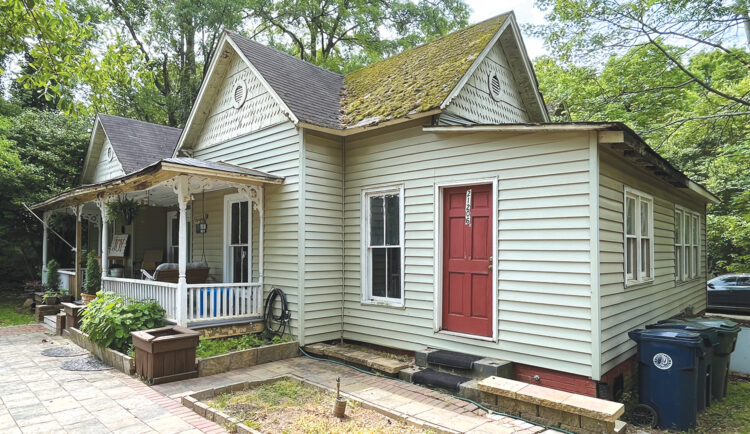 HISTORIC PRESERVATION
June 6.  By Dave Yochum. Preserve Mecklenburg (PMI) has obtained a one-year option to purchase four parcels of land at the corner of School Street and Catawba Avenue, not far from the old agricultural building on the grounds of the Cornelius Elementary School where town officials hope to house a museum for local artifacts and photos of buildings that are no more.
The parcel at School and Catawba contains two Folk Victorian style homes built in 1906 – the Gabrial-Puckett House and the Perry Goodrum House. According to property records, the parcel is owned by Jennifer Beard and the Howard Legacy Trust.
PMI preservation easement
"PMI's sole aim is to assign its option to a buyer who will restore the houses and place preservation easements on both structures," said Dan Morrill, title at Preserve Mecklenburg Inc. (PMI) PMI is the organization that led the effort to save the historic tenant house at the 55-acre Alexander Farm, where a mixed-use project is under construction.
The Gabrial-Puckett House and the Perry Goodrum House are part of the streetscape of Catawba Avenue – the main entryway from I-77 to downtown and the Cain Center for the Arts.
Quotable
"The scale of the houses, the overarching trees, and the informal landscaping announce to visitors that Cornelius retains its small town ambience," said Morrill.
Background
Preservation easements, which would guarantee that both houses would be preserved, also depends on an economically feasible development plan that would allow the four parcels to be developed with a parking plan somewhat less robust than current code.
Morrill said losing the two homes would be a "great loss" and make Cornelius much less distinctive.
Downtown study coming
Mayor Woody Washam, who appointed the museum study group said a downtown/arts district study and plan should begin in the months ahead.
"Parking will be an integral part of this study to serve these important properties and the downtown as a whole," he said.