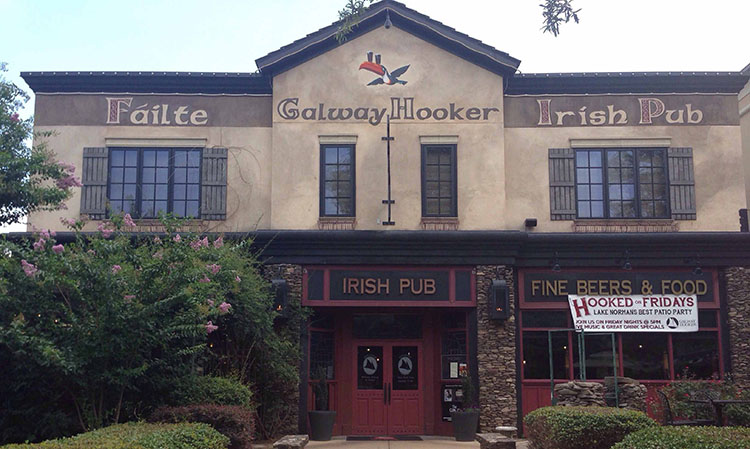 Jan. 17. By TL Bernthal. Piper's at Galway Hooker closed this month, but a new concept is promised for this spring at 17044 Kenton Drive in Cornelius.
"We thank you for being a great guest. Keep a look out for a new concept this spring," the  message on its voicemail says.
The website explains it this way —
New Hours Of Operation:
Temporarily Closed:
Look for us Spring 2023
An email and phone call seeking comment were not returned on Tuesday.
Not funny
The space also houses the banquet room Waterford Hall and the Comedy Zone on the second floor. A message to Comedy Zone on its status was not returned, but no tickets are available for the Lake Norman location.
Galway's original owners opened Galway Hooker in 2002 and sold the restaurant during the COVID-19 pandemic. New owner Dan Reynolds changed the establishment's name at Piper's at Galway Hooker, in honor of his late sister.
The restaurant and pub were a bastion of Irish food and Guinness beer; it even had a small doorway for leprechauns.
Other drinking and dining news
—Bin 110, 19712 One Norman Blvd. Suite 110, Cornelius, will be taking a two-month hiatus, starting in March, to renovate and expand before re-opening this spring. The renovation will triple capacity and include a new sound and light system. Additional food items are planned as well. Owner Andy Upchurch did not respond to an email seeking additional information.
— Work is continuing at Red Rocks Cafe in Birkdale Village, Huntersville, with a mural completed by Charlotte artist Nico Amortegui , who was born and raised in Bogotá, Colombia.  Some of the new awning will be up in early February. The expanded outdoor seating area and other renovations will mean the popular restaurant will close temporarily,  probably in March. No work is being done in the kitchen so the closing will not be long, possibly a week, owner Ron Herbert says.
—Seven months after an early-morning fire at the Tropicana on West Catawba Avenue caused extensive damage, Cambridge Hospitality, the operator of the nightspot, says it will not reopen. After considering the costs of reopening and staffing, the owners decided to focus on the three remaining eateries they operate: Kat's Seafood Kitchen, Peninsula Prime and Jack's Corner Tap.