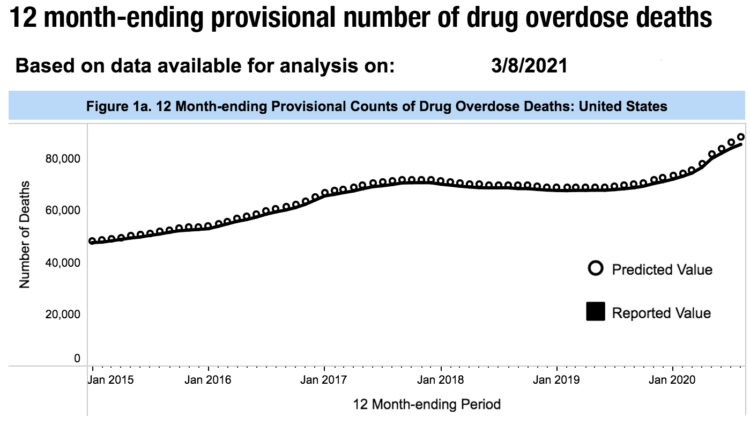 April 15. By Dave Yochum. The year-long coronavirus pandemic has affected our lives in many ways: Schools and restaurants closed, sporting events either canceled or held in empty venues.
There's also been an increase in opioid abuse, including deaths.
"The disruption to daily life due to the COVID-19 pandemic has hit those with substance use disorder hard," said Centers for Disease Control Director Robert Redfield. "As we continue the fight to end this pandemic, it's important to not lose sight of different groups being affected in other ways."
Pandemic stress
Stress caused by COVID-19—ranging from kids stuck at home to unemployment and even homelessness—have contributed to an increase in drug overdoses.
Synthetic opioids, primarily illicitly manufactured fentanyl, appear to be the primary driver of the increases in overdose deaths, increasing 38.4 percent from 2019 to 2020, according to the CDC.
Near doubling
Ten western states reported a near doubling—a 98 percent increase—in synthetic opioid-involved deaths.
North Carolina opioid overdose deaths fell in 2019, but things changed in 2020.
In December of 2020, there were 658 opioid-related emergency department visits in North Carolina, compared to 579 in December of 2019.
For the full year 2020, the increase is 23 percent.
Police say fentanyl is being cut into drugs like heroin, cocaine and marijuana.
Davidson Police Chief Penny Dunn says reported overdoses have increased.
"Those increases in overdoses includes opioids and other substances, as well as an accidental or attempted suicide overdose," she said.
Resources available
Dunn said resources are still available either in person or through a virtual platform.
• Mecklenburg County's Community Support Service's Prevention & Intervention Services Division, specializing in domestic violence, substance use and violence prevention, integrates services around coexisting issues.
For help, visit: www.mecknc.gov/CommunitySupportServices and click on Prevention and Intervention
• Novant Health Presbyterian Medical Center has a 24-hour access program designed to assess needs and connect to the appropriate care: 1-800-786-1585
• Atrium Health has a behavioral health help line available 24/7 at 704-444-2400.