March 6. By Thurman Ross. [Opinion] Residents of Smithville have organized the Smithville Residents Coalition (SRC) to have their voices heard during the proposed changes to their beloved community.
Although the Smithville Community Coalition (SCC) has provided exceptional work in bringing attention to the plight of the neighborhood, the stakeholders, SRC, feel that their voices are not being heard.
In fact, more than 33 residents have submitted their concerns.
Smithville Was
A limited number of residents are highlighted when speaking about Smithville. Only four families from the neighborhood are represented in the video on the website. The revamped website should include more voices. The work of an entire neighborhood WAS Smithville in the past and IS Smithville today. A community of hard-working homeowners who were proud of their hard work and who knew what it meant to raise future leaders.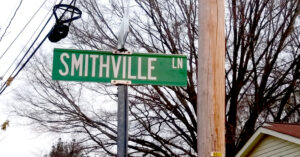 Smithville Is
A community with hard working residents with homes that need critical repairs. The SCC is being led by an individual from Davidson, a lady who moved away from Smithville while in the 5th grade and a gentleman who is not even a native of North Carolina.
Residents were made promises that have not been kept:
+Funding for the revitalization plan would be used to upfit homes, and beautify the community. The funding was shifted. Residents are now required to use Habitat for Humanity for critical repairs and must sign a five-year deed restriction. Residents say they can't get accurate information
+For homes sold to SCC, some residents were promised another home in the Cornelius area and monthly rent/mortgage would be paid for 1-2 years. One resident says that her home was sold, and she has been advised that she may have to settle for whatever the SCC can provide, possibly an apartment.
+SCC was made aware of a white resident who verbally and physically attacked a young black male, even using the n-word in January. No steps have been taken to address the matter.
+Meetings are poorly attended by residents and SCC board members. Residents say they are tired of being lied to, given different stories, or told there will be a follow up which never happens. The SCC says that they don't know why their board members do not attend neighborhood meetings on the fourth Monday of the month.
+Monthly meetings scheduled for the fourth Monday are canceled with last-minute notice. During meetings, residents face contempt when asking questions and often, real issues are not addressed. For example, January's meeting was about the new office and birthdays. On January 31, neither the town nor SCC advised the residents about an opportunity to provide input on upcoming infrastructure work in the community.
+Burton Lane and North Ferry Street: The SCC has not included these streets in any of its plans. Smithville is a community that includes North Ferry Street and Burton Lane.
+Residents do not understand the basics of real estate, finances, and estate planning. SCC promised sessions however none have been provided.
+College graduates and children who have gone on to successful careers have been denied participation in planning the future of Smithville. Expand and Add more SRC members.
+Accountability doesn't exist. Town leaders and County leaders have been made aware about concerns by residents however these concerns have not been addressed. The SCC executive director has intimidated many town leaders by using the race card.
+The SCC told the community that jobs would be made available because of their plan. There are currently four staff members, none of them live in Smithville. The neighborhood was not given a chance to apply for any of the positions. Willie Jones assigned himself the Executive Director position and assigned his salary. The SCC executive director selected the staff. Three are a part of Unity in Community, led by the executive director's wife. The Project Manager position does not have to be trained nor certified and none of the salaries will be made public. SCC must be accountable to SRC, the stakeholders. (Community meetings are not recorded in writing nor with audio equipment) Inclusion NOT Exclusion.
Smithville Will Be
+The SCC is comprised of a board that is self-governing and doesn't abide by its own rules of term limits.
+The SCC denied the opportunity of residents who applied to the board: a young college graduate, a pastor, and the only owner of a black business in Smithville.
+Healthcare disparities—no plan to utilize resources to speak with healthcare providers to assist elders in the community.
+Estate Planning denied numerous plans presented by SRC to have sessions to speak with residents about real estate, finances, and estate planning.
+Age in Place—how do you preserve the history of the Rosenwald School when you haven't had a discussion with the owners of the building in three years.
+Age in Place—what are the plans to allow elders to age in place in peace. What are the plans when elders transition?
+Traffic and Congestion—plans to use South Hill Street for alternate route. Continues to present a plan that includes property that owners have demanded be removed from the plan. Residents have repeatedly told the SCC that the alternate route is not an option.
+Residents being taxed out—Seniors advised to apply for tax relief however no sessions to assist residents who need to complete an application.
The stakeholders/SRC are thankful for the work of the SCC and acknowledge that changes are inevitable. Provide changes that will preserve the neighborhood. The plan would have never reached this point without the hard work and funding from some good people with good intentions. It's time for the SCC to stop telling the residents that "they don't know what is best for them."
Smithville needs revitalization. The current method of doing business, putting profits before people, and using the term "revitalization" is a glorified plan for gentrification.
—Ross is a former member of the Cornelius Town Board, having served multiple terms over the years. He is running again in the November election. He lives on Burton Lane.