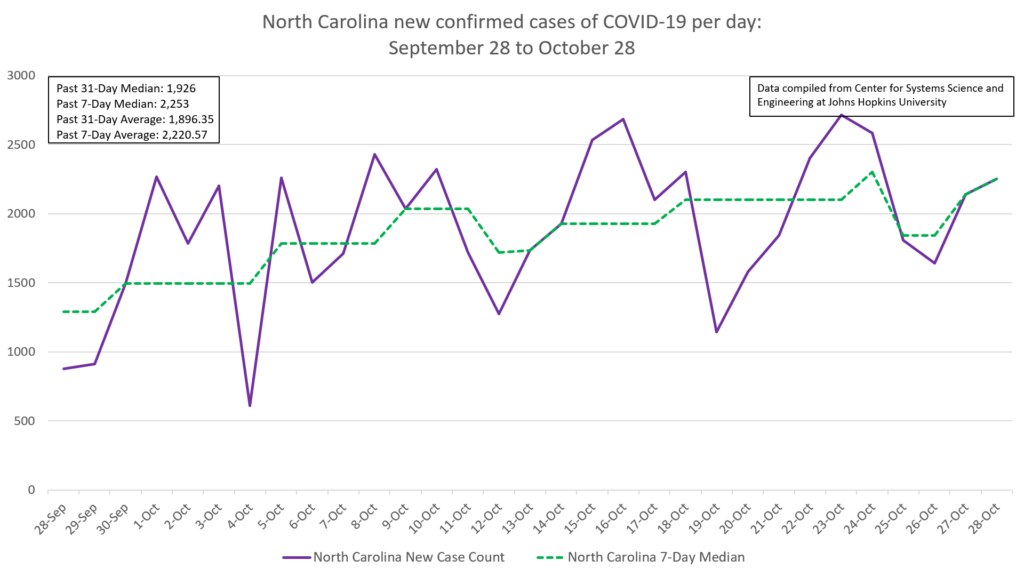 Oct. 29. The NC Dept. of Health and Human Services reported 2,885 new COVID-19 cases statewide today, the largest daily increase since tracking began in March. The increase is well ahead of the records set two weeks ago: 2,532 new cases on Oct. 15 and 2,684 new cases Oct. 16.
The median number of new daily cases during the past week (2,253) is running 17 percent ahead of the median number of new cases during the past 31 days (1,926).
The total number of cases in North Carolina is now at 269,021.
Testing
Tests are coming back positive at the rate of 6.4 percent statewide, and 6 percent in Mecklenburg. While the goal is less than 5 percent, statewide positive test data is improving. It was over 7 percent on Sunday, according to the NDHHS.
Deaths
There were 38 new deaths statewide due to COVID-19. A total of 4,283 North Carolinians have died because of the COVID-19 pandemic.
Hospitalizations
Hospitalizations are at 1,181 statewide, according to today's NCDHHS report, down from 1,193 yesterday and 1,205 exactly one week ago.
Mecklenburg
There were 209 new cases reported in Mecklenburg, down from 227 new cases yesterday.
There was two new deaths in Mecklenburg in today's report, for a total of 389 county-wide.
North Mecklenburg
Cornelius: 7 new cases, 670 cumulative total; 16 deaths total.
Davidson: 6 new cases, 361 cumulative cases total; 6 deaths total.
Huntersville: 11 new cases, 1,237 cumulative case total; 14 deaths total.