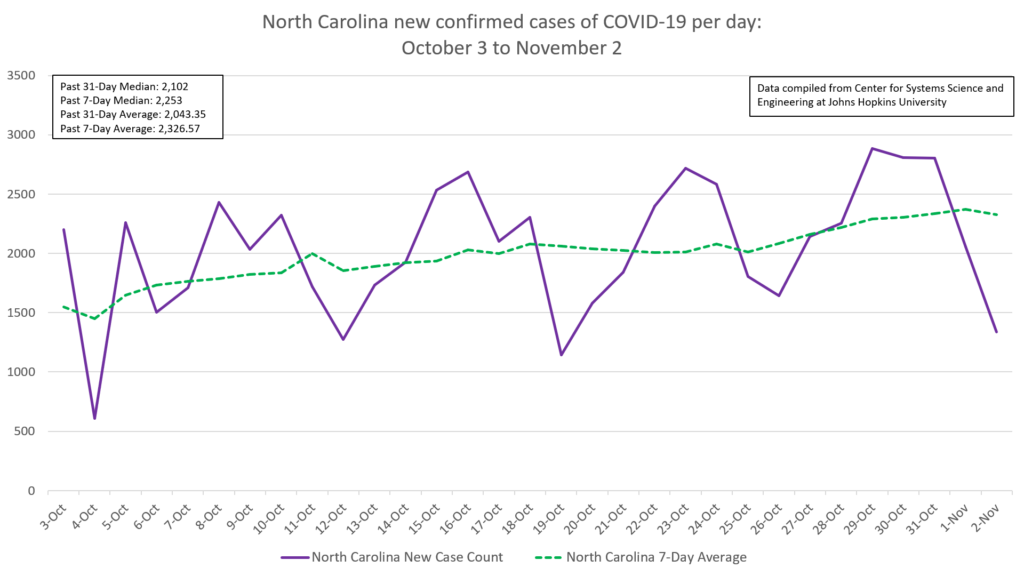 Nov. 3. The NC Dept. of Health and Human Services today reported an increase of 2,349 new COVID-19 cases statewide for a cumulative total of 280,377 since the outbreak began in March.
The median number of new cases over the past week (2,253 based on data from Johns Hopkins University) is running 7.2 percent of the median number of new cases over the past 31 days (2,102).
Tests are coming back positive at the rate of 6.8 percent statewide, and 6.1 percent in Mecklenburg. The goal is less than 5 percent.
Deaths
There were 67 new deaths statewide due to COVID-19. A total of 4,457 North Carolinians have died because of the COVID-19 pandemic. Today's death tally is high, but it comes off two unusually low days—only five on Sunday and seven on Monday.
Hospitalizations
Hospitalizations rose to 1,175 statewide, according to today's NCDHHS report, up from 1,146 yesterday.
Mecklenburg
There were 205 new cases reported in Mecklenburg, as well as two new deaths, for a total of 398 deaths county-wide.
North Mecklenburg
Cornelius: 7 new cases, 708 cumulative total; 16 deaths total.
Davidson: 5 new cases, 373 cumulative cases total; 7 deaths total.
Huntersville: 11 new cases, 1,296 cumulative case total; 14 deaths total.