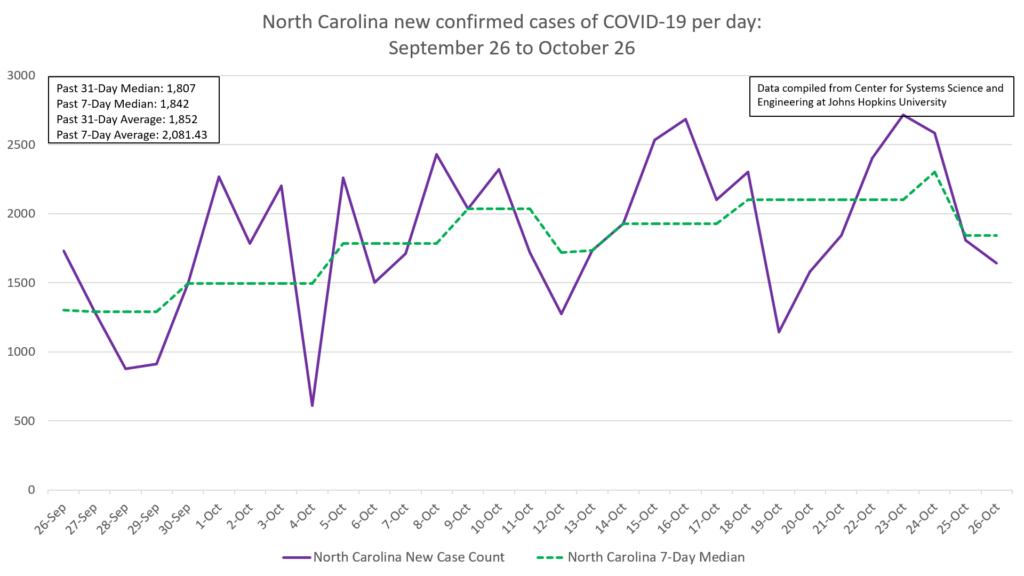 Oct. 27. The number of new COVID-19 cases statewide reported by the NC Dept. of Health and Human Services rose again. The NCDHHS today reported 2,141 new cases, up from 1,643 new cases yesterday.
It's still fewer than the 2,716 new cases reported on Friday last week.
When you look at the median number of new cases over the past week and over the past month, 2,141 new cases is well ahead of both.
The median over the past week is 1,842 cases per day. Over the past month, 1,807 per day. Today's new case count—2,716—is almost exactly 50 percent above the monthly median.
The total number of cases in North Carolina is now at 263,883. All 50 states report new daily cases; federal guidelines advise that states wait until they experience a downward trajectory of documented cases within a 14-day period before proceeding to a phased opening.
Gov. Roy Cooper extended Phase 3 reopening on Oct. 21, when new cases hit 1,842. The next day, new case volume rose to 2,400.
Positive tests
Tests are coming back positive at the rate of 7.3 percent statewide, and 6 percent in Mecklenburg. The goal is less than 5 percent.
Deaths
There were 41 new deaths statewide due to COVID-19. A total of 4,211 North Carolinians have died because of the COVID-19 pandemic.
Hospitalizations
Hospitalizations are at 1,214 statewide, according to today's NCDHHS report. That's up from 1,193 yesterday and 1,203 exactly one week ago.
Mecklenburg
There were 273 new cases reported in Mecklenburg, up from 214 new cases yesterday.
There was two new deaths in Mecklenburg in today's report, for a total of 386 county-wide.
North Mecklenburg
Cornelius: 5 new cases, 661 cumulative total; 16 deaths total.
Davidson: 3 new cases, 352 cumulative cases total; 6 deaths total.
Huntersville: 9 new cases, 1,221 cumulative case total; 14 deaths total.