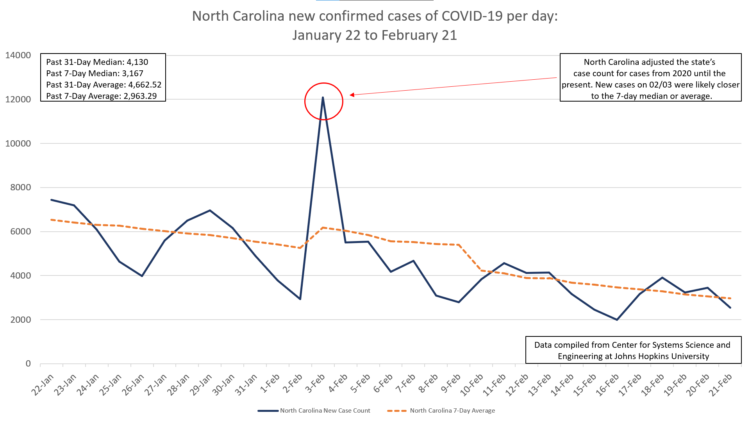 Feb. 22. The decline is the median number of new COVID cases during the past week (3,167) vs. the past month (4,130) is continuing in North Carolina. The new case volume is down 23 percent this past week compared to the past 31 days, based on data from Johns Hopkins University. (See chart.)
The NC Dept. of Health & Human Services today reported 2,133 new cases of COVID-19 today.
Hospitalizations continue to fall: 1,567 statewide in today's NCDHHS report; down from 3,512 exactly one month ago.
More than 676,000 North Carolinians have received both doses of the vaccines; 1.266 million have received one dose.
Deaths
There were eight new deaths statewide attributable to the coronavirus, for a total of 10,934 since the outbreak began in North Carolina a year ago. There have been a total of 838 COVID-related deaths in Mecklenburg since the beginning of the outbreak here.
Testing
The statewide positive test rate is at 6.1 percent, down from 15-16 percent at the beginning of the year. The positive test rate in Mecklenburg has come down to 7 percent in today's report.
Mecklenburg
In Mecklenburg County, the NCDHHS reported 280 new cases, for a cumulative total of 95,109 since the outbreak began.
North Mecklenburg
Cornelius: 5 new cases, 2,444 cumulative; 21 deaths total.
Davidson: 5 new cases, 1,387 cumulative; 15 deaths total.
Huntersville: 20 new cases, 5,027 cumulative; 46 deaths total.