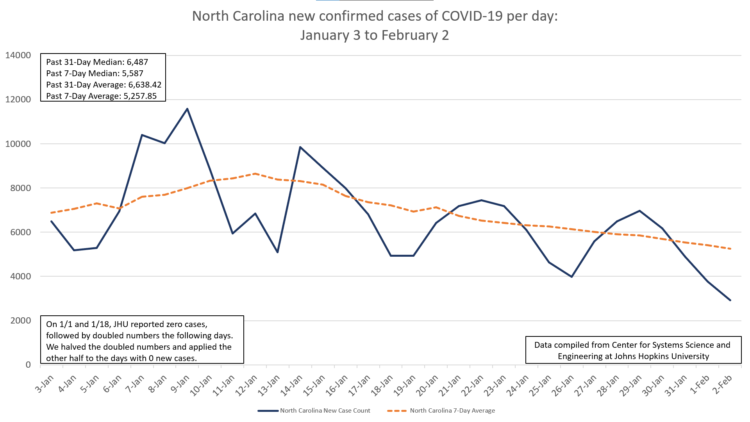 Feb. 3. The median number of new COVID cases during the past week is still falling despite a one-time surge of 12,000 cases today due to delayed reporting in December and January.
Based on data from Johns Hopkins University, the volume of new cases during the past seven days is down 13.87 percent compared to the volume over the past months.
We used medians to compare: 6,487 over the past month, vs 5,587 new cases over the past week to arrive at a 13.87 percent decline.
The NC Dept. of Health & Human Services said today's reported increase of 12,079 is overstated by 7,912 cases based on a large number of cases from tests performed at FastMed Urgent Care clinics during December and January that had not been previously reported.
The delayed reports account for 7,912 of the 12,079 COVID-19 cases reported today. Without them, today's new case count would be 4,167, well below the average of the past five days.
Yesterday's increase of 2,926 new cases of COVID-19 was the smallest increase since December.
Hospitalizations continued to fall: 2,706 statewide down from 3,951 on Jan. 13.
Vaccines
The Centers for Disease Control and Prevention ranked North Carolina sixth in the nation for total vaccine doses administered.
Deaths
There were 169 new deaths statewide attributable to the coronavirus, more than 100 more than yesterday. There have been a total of 9,578 deaths due to the coronavirus since the outbreak began in North Carolina 11 months ago.
There were one new death in Davidson, 16 new county-wide.
There have been a total of 782 COVID-related deaths in Mecklenburg since the beginning of the outbreak.
Testing
The statewide positive test rate is at 14 percent, while the positive test rate in Mecklenburg was 11 percent in today's report.
Mecklenburg
In Mecklenburg County, the NCDHHS reported 822 new cases.
North Mecklenburg
Cornelius: 22 new cases, 2,251 cumulative; 21 deaths total.
Davidson: 14 new cases, 1,242 cumulative; 13 deaths total.
Huntersville: 42 new cases, 4,605 cumulative; 43 deaths total.