Feb. 2. By Dave Vieser. Lake Norman Chrysler Dodge Jeep has down-sized plans for a new showroom and mixed-use development on Chartown Drive just south of Life Fellowship Church. Based on conversation with neighbors, the veteran dealer removed plans for an off-road vehicle testing area. Owner Jack Salman also agreed to keep test drives out of residential neighborhoods.
Hearing No. 1 of 2
The Town Board hearing last night was the first official public review of the $17 million project. The next step for the proposal is a review by the town Planning Board on a yet-to-be determined date.
"I'm glad to hear that the testing area has been removed," said neighbor Melanie Reeder, explaining that it was a concern to residents.
50-foot buffer
The 30-acre site faces I-77 and backs up to woods behind residential properties. The project would retain a 50-foot buffer as well as the natural habitat.
The Salzmans got a thumbs-up from a number of neighbors for meeting with them and reviewing their concerns in a courteous manner.
What's planned: A 50,000 square-foot new-car dealership, a personal watercraft dealership and office space.
New jobs: 75, then growing to 100.
Annual salaries: Roughly $3.5 million in the first 90 days of opening
Completion: Approximately August of 2022, if the rezoning is approved.
Existing facility on Torrence Chapel Road: It will be devoted to used cars.
+++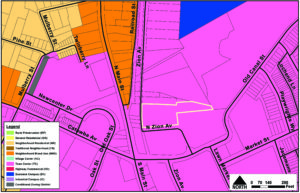 Also at the Feb. 1 Town Board meeting, commissioners conducted the second and final public hearing on a rezoning request by MVP Properties to construct a medical/office facility on approximately 1.76 acres located on North Zion Avenue near the Antiquity neighborhood. No opposition was expressed at the hearing. A final decision is expected at the board's next meeting on February.