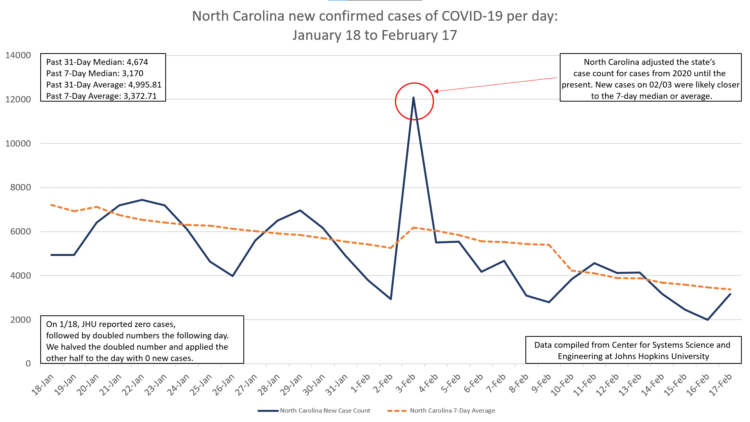 Feb. 18. The volume of new coronavirus cases during the past week was 32 percent lower than the preceding 31 days in North Carolina, according to data collected by Johns Hopkins University. The NC Dept. of Health & Human Services is reporting 3,916 new cases today,
Yesterday there were 3,167 new cases. A week ago today there were 4,568 new cases.
Flu way down
North Carolina has seen a dramatic drop in the spread of flu and other respiratory illnesses due to many people practicing the 3 Ws. Four deaths from flu have been reported to NCDHHS so far this season, compared to 186 deaths last season and more than 200 deaths during the 2018-19 season.
Hospitalizations
Statewide hospitalizations fell to 1,892 from 1,954 yesterday. A month ago there were 3,881 people hospitalized due to COVID-19.
Deaths
Statewide there were 96 new COVID deaths in today's report, down from 108 yesterday.
Testing
The statewide positive test rate is now at 6.2 percent, down from 9.7 percent on Feb. 1. The Mecklenburg positive test rate remains above 8 percent.
Mecklenburg
There were 398 new cases of COVID-19 county-wide, up from 295 new cases yesterday.
North Mecklenburg
Cornelius: 14 new cases; 2,414 cumulative; 21 deaths total.
Davidson: 9 new cases; 1,363 cumulative; 15 deaths total.
Huntersville: 24 new cases; 4,955 cumulative; 46 deaths total.