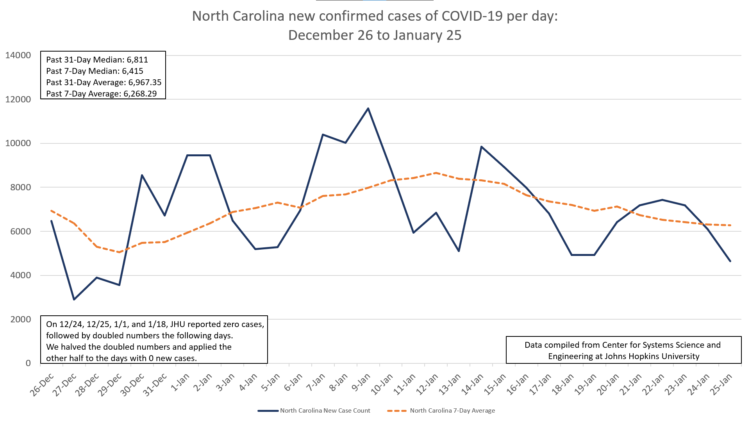 Jan. 26. By Dave Yochum. Is the COVID-19 pandemic receding from the high-water mark earlier this month? The median number of new coronavirus cases statewide during the past seven days (+6,415) is down 5.8 percent from the median of the past 31 days (+6,811), based on data from Johns Hopkins University.
There were 3,978 new cases reported today by the NC Dept. of Health & Human Services.
Hospitalizations
On a national level, the number of patients hospitalized because of the coronavirus has been declining since September, according to the COVID Tracking Project at The Atlantic.
In terms of raw numbers nationwide, hospitalizations fell to 109,936 currently, vs. 129,748 two weeks ago on Jan. 12. Hospitalizations fell in the past week in every state but Vermont.
The total statewide now at 3,287, according to the NC Dept. of Health & Human Services.
Vaccines
According to NCDHHS Director Dr. Mandy Cohen, 95 percent of all doses of vaccines supplied to North Carolina have been distributed.
"We need those additional vaccines now," Cohen said during a 1 pm press conference today. "This week will feel particularly tight," she said, explaining that vaccines are already allocated due to appointments that have already been made.
The state expects 120,000 new first doses each week. That said, going forward the NCDHHS will reserve 84,000 for local vaccine providers.
Deaths
There were a total of 56 new deaths statewide in today's report from NCDHHS. In Mecklenburg, there were three new deaths.
Testing
The statewide positive test rate is now at 13.3 percent statewide, 11.8 percent in Mecklenburg. The goal is 5 percent.
Mecklenburg
In Mecklenburg County, there were 585 new cases reported today by the NCDHHS. Since the outbreak began last March, there have been 724 deaths due to the coronavirus.
There was one new death related to the coronavirus reported by NCDHHS today in Davidson.
North Mecklenburg
Cornelius: 5 new cases, 2,136 cumulative; 20 deaths total.
Davidson: 7 new cases, 1,147 cumulative; 12 deaths total.
Huntersville: 27 new cases, 4,367 cumulative; 38 deaths total.