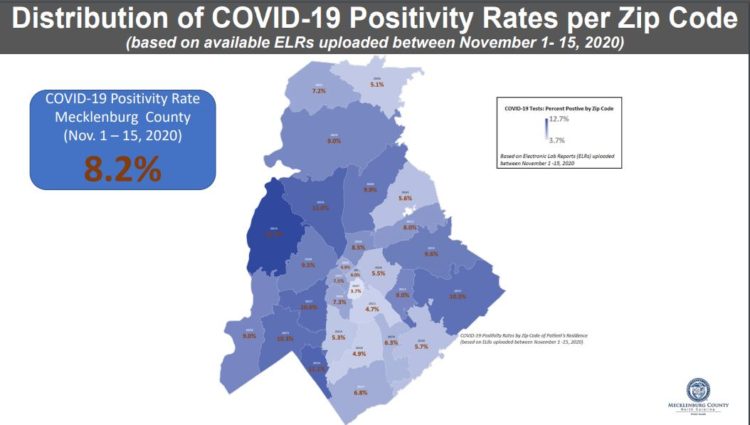 Nov. 18. With a vaccine likely weeks if not months away, COVID-19 cases continue to increase in North Carolina. The NC Dept. of Health & Human Services reported 3,367 new cases of the coronavirus today, up from 3,288 new cases yesterday, but lower than the 3,885 new cases reported on Saturday, Nov. 14.
The NCDHHS has changed the way new cases and hospitalizations are reported, resulting in, to some extent, an apples to oranges comparisons this week vs. last week. Comparisons day to day this week are going to be valid.
"Right now North Carolina's metrics are increasing, not surging," Gov. Roy Cooper said during a press conference yesterday.
Regardless, there is a surge. During the past month, the total number of tests in the US, based on the Covid Tracking Project, increased by 35 percent while the number of COVID-19 cases increased 176 percent.
Total cases
The cumulative total of COVID-19 cases now stands at 320,862 statewide.
Nationwide, Johns Hopkins University is reporting more than 11.38 million cases and more than 248,995 deaths.
Yesterday, Gov. Cooper announced a new county-by-county warning system based on COVID-19 data, including new case volume and hospitalizations.
"It's going to take all of us working together to avoid tightening restrictions like so many states are now doing," said NCDHHS Secretary Mandy K. Cohen.
Testing
Tests are coming back positive at the rate of 9.2 percent statewide, up from 8.6 percent yesterday and 8.1 percent Monday. In Mecklenburg County, positive tests are running at 7.4 percent. To ease restrictions, health officials look for positivity rates at 5 percent and falling.
The new Mecklenburg County map shows Huntersville at 9 percent, Cornelius at 7.2 percent and Davidson at 5.1 percent. The data reflects testing from Nov. 1 to Nov. 15.
Hospitalizations
Hospitalizations statewide, which rose past 1,500 for the first time yesterday, rose 36 to 1,537 today.
Deaths
Deaths increased by 46 in today's NCDHHS report, for a total of 4,898 North Carolinians who have died due to the COVID-19 pandemic.
Mecklenburg
In Mecklenburg County, there were 323 new cases in today's NCDHHS report, up from 317 new cases yesterday. There have been a total of 425 deaths countywide, up four from yesterday.
North Mecklenburg
Cornelius: 12 new cases, 837 cumulative; 17 deaths total.
Davidson: 2 new cases, 437 cumulative; 7 deaths total.
Huntersville: 27 new cases, 1,545 cumulative; 14 deaths total.
Median change week vs 31 days