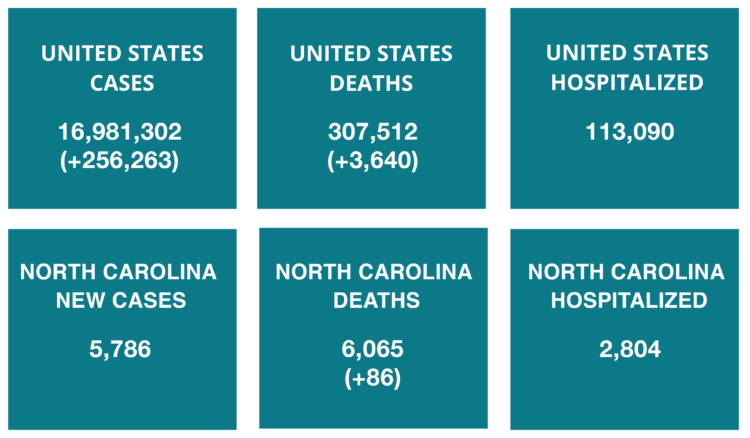 Dec. 17. By Dave Yochum. As vaccinators who will administer COVID-19 vaccines to frontline, high priority employees are getting the vaccines themselves, the NC Dept. of Health & Human Services today reported another day of higher coronavirus cases.
The NCDHHS reported 5,786 new cases and 86 new deaths.
Hospitalizations due to COVID-19 fell by seven from yesterday's record high of 2,811 statewide.
Meanwhile Atrium Health is reporting that 60-70 experienced health care providers have volunteered to be COVID-19 vaccinators, in addition to their regular roles at Atrium Health. The volunteers work across multiple departments at Atrium Health, from pharmacy to nursing professional development.
The NCDHHS says the state will use the COVID-19 Vaccine Management System (CVMS) to help vaccine providers know who has been vaccinated with which vaccine to make sure people get the second dose of the same vaccine at the right time.
It will also help people register for vaccination at the appropriate time and allows the state to manage vaccine supply.
Pharmacies, such as CVS and Walgreens doing vaccinations in long-term care facilities, will use their own systems.
Deaths
North Carolina has had a total of 6,065 deaths due to the coronavirus. In Mecklenburg County, there have been 492 deaths due to the coronavirus, up one from yesterday.
Testing
Yesterday's statewide positive test rate was 11.7 percent, down from 12.5 percent yesterday. The Mecklenburg County positivity rate was 10.9 percent, down from 11 percent yesterday
Total cases
Statewide, the cumulative total of COVID-19 cases now stands at 457,660.
Mecklenburg
The county-wide total is now 53,526, up 450 from yesterday.
North Mecklenburg
Cornelius: 18 new cases, 1,282 cumulative; 17 deaths total.
Davidson: 15 new cases, 704 cumulative; 8 deaths total.
Huntersville: 48 new cases, 2,501 cumulative; 19 deaths total.