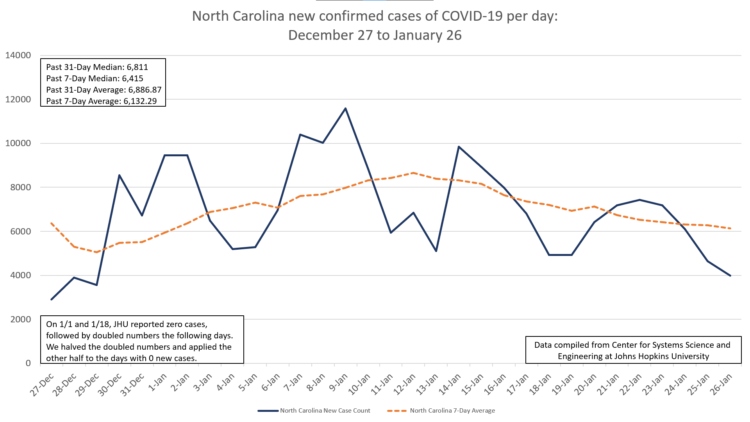 Jan. 27. The NC Dept. of Health & Human Services today reported 5,587 new cases of the coronavirus statewide. The median number of new cases during the past week is 5.8 percent below the median volume during the past month, based on data from Johns Hopkins University.
Hospitalizations
The NCDHHS today reported 3,305 people hospitalized statewide, down from 3,368 yesterday and 3,740 one week ago.
Deaths
There were a total of 139 new deaths statewide in today's NCDHHS report. In Mecklenburg, there were 17 new deaths.
Testing
The statewide positive test rate is at 11.1 percent statewide, 11.7 percent in Mecklenburg. The goal is 5 percent.
Mecklenburg
In Mecklenburg County, the NCDHHS reported 659 new cases. There have been 741 deaths countywide due to the coronavirus.
North Mecklenburg
Cornelius: 9 new cases, 2,145 cumulative; 20 deaths total.
Davidson: 13 new cases, 1,160 cumulative; 12 deaths total.
Huntersville: 25 new cases, 4,392 cumulative; 38 deaths total.