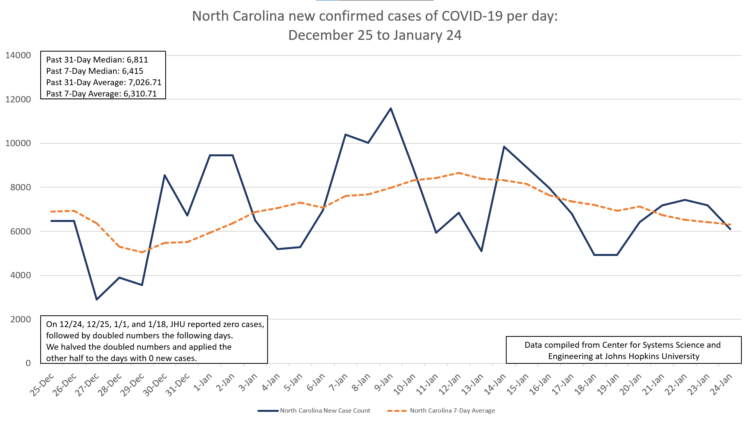 Jan. 25. Hospitalizations due to COVID-19 have fallen again, with the total statewide now at 3,287, according to the NC Dept. of Health & Human Services. Meanwhile, there were 4,633 new cases of the coronavirus, 32 percent below the median of the past month, based on data from Johns Hopkins University. (See chart.)
The median number of new cases over the past week (6,415) is 5.8 percent lower than the median over the past month (6,811).
There were a total of 25 new deaths in today's report from NCDHHS.
Testing
The statewide positive test rate is now at 10.2 percent, down from 11.8 percent this past Tuesday. Mecklenburg COVID-19 tests are coming back positive at the rate of 11.8 percent, down from more than 13 percent last week. Five percent is the goal.
Mecklenburg
In Mecklenburg County, there were 677 new cases reported today by the NCDHHS. There have been 721 deaths due to the coronavirus, up two from yesterday.
There were two new deaths related to the coronavirus in Huntersville over the weekend.
North Mecklenburg
Cornelius: 20 new cases, 2,131 cumulative; 20 deaths total.
Davidson: 8 new cases, 1,140 cumulative; 10 deaths total.
Huntersville: 18 new cases, 4,340 cumulative; 38 deaths total.
National (Johns Hopkins data)