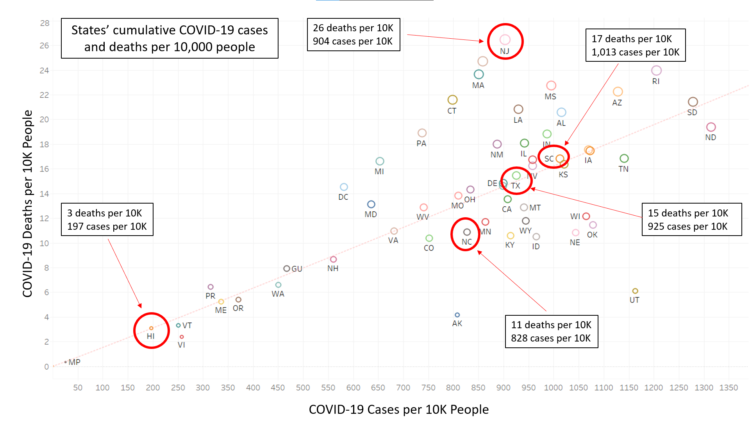 March 5. By Dave Yochum. With the help of Johns Hopkins University data, we analyzed cumulative state-by-state data around COVID-19 cases per 10,000 and deaths per 10,000. North Carolina's cumulative totals are 869 cases per 10,000 and 11 deaths per 10,000.
Neighboring South Carolina, which has had a history of fewer COVID restrictions, came in at 1,004 cases per 10,000 and 17 deaths per 10,000.
Texas had 925 cases per 10,000 and 15 deaths per 10,000. This week the governor of Texas made national news when he announced the repeal of his mask order and said "it is now time to open Texas 100 percent."
New cases down
Meanwhile, the decline is the median number of new COVID cases in North Carolina during the past week (2,502) vs. the past month (3,170) is continuing. The new case volume this past week is down 21 percent this past week compared to the past 31 days, based on data from Johns Hopkins University.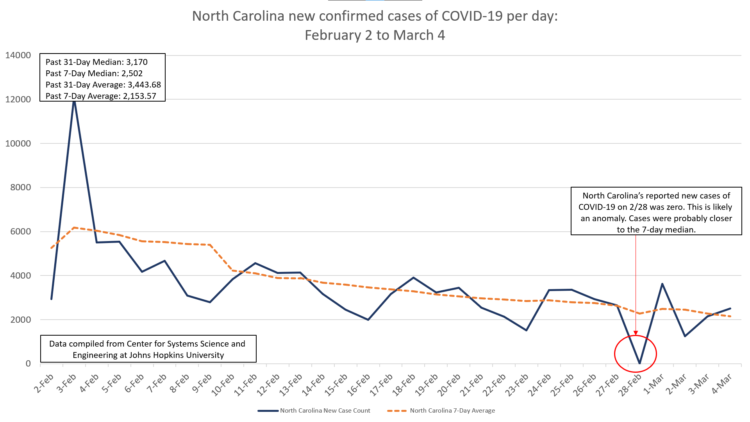 Deaths
Among the 83 new deaths in yesterday's and today's NC Dept. of Human Health & Services report, there were two in Cornelius. Yesterday's report was truncated due to issues with the NCDHHS reporting system. There have been a total of 11,446 deaths attributable to COVID-19 statewide since the outbreak began one year ago.
NC 7th most restrictive
North Carolina is the state with the seventh most coronavirus restrictions, according to a national survey.
According to a WalletHub study, here's how we rank nationwide on the basis of coronavirus restrictions (1=Fewest, 25=Avg.):
16th – Requirement to Wear a Face Mask in Public
18th – State Guidance on Customer Health Checks at Restaurants
30th – Large Gatherings Restrictions
50th – Strictness of "Shelter in Place" Order
22nd – Reopening of Non-Essential Businesses
20th – Reopening of Restaurants and Bars
15th – Working from Home Requirements/Recommendations
(Rankings are based on data available as of 12:30 pm March 1)
South Carolina came in at No. 43 in the  COVID restrictions states study; Texas at No. 45.